There are many families who find themselves in need of a quality memory care community in Oceanside, CA for their loved ones. It can be difficult to discover you simply cannot meet the needs of those you love. The good news is, we can help you know what to look for when you search for the right place for yours
Heritage Hills is an exceptional memory care community overlooking the lush fairways of El Camino Country Club. Let us look at how our state-of-the-art community combines easy accessibility with beautiful surroundings to meet the needs of those needing memory care. 
Here are some of the essential features you should consider for the best care for your loved ones:
#1) Professional and Compassionate Staff
You'll want to have a good understanding of the training the staff has received since they will be the ones providing primary care for your loved one. Discuss specialized education and the staff's practices of working with those with dementia. 
Another feature of memory care is the staff-to-resident ratio the community provides and how this might change from daytime to nighttime hours. Memory care residences generally have a higher staff-to-resident ratio to provide better care for those with dementia or other cognitive-related issues.  If possible, try to meet some of the staff as well as observe how they interact with the residents. You should be able to see their level of care and compassion.
Our resident caregivers are on-site 24 hours a day, 7 days a week, always looking for
ways to show our residents they are loved and supported. At Heritage Hills, our nurses and personal caregivers understand that trust is built through consistency and compassion,  so they make it a point to know each resident personally — their history, their likes and dislikes, and their specific memory-related needs. 
Because our community provides a full range of care, including hospice, Heritage Hill residents never have to leave. We will be here for them as long as they need us. We communicate openly with family members and among our staff so our care remains flexible and ongoing as needs change.
#2) Purposeful and Safe Design
The home's layout and design can make a big difference in how comfortable residents feel. Since those with Alzheimer's often wander, communities should address this while minimizing their agitation and providing safety. Look for a design that allows residents to feel as if they can move freely.
Be sure to ask about security and alarms. Also, are there enclosed courtyards or outdoor spaces so residents can enjoy being outside but still be safe? These are important considerations for your loved ones' overall health and well being.
Generally, safety checks are done more frequently in memory care communities, and the staff put an extra emphasis on security to prevent residents from wandering, which is common in those with more advanced dementia. You may want to ask about their process for these, too, for your peace of mind.
At Heritage Hills, our design is with a purpose to meet the needs of those needing memory care. Our community not only meets state health and safety requirements, but Heritage Hills was designed and built with the singular purpose of creating the right environment for world-class memory care. Every living space and common area — even the building itself— speaks directly to the unique needs of our residents. 
#3) Healthy Dining Program
Another benefit you will want to look for with a memory care community in Oceanside, CA are dining options available for your loved ones. A healthy diet is important for those living with dementia or other cognitive-related issues, but getting nutrition can become a challenge as they progress through the illness. People may be more prone to choking, may not feel hungry, may struggle to hold utensils to eat, and may not recognize the food before them. 
A benefit of memory care is knowing your loved one will have 3 healthy meals prepared each day and that caregivers know tips to help residents receive the nutrients they need. In addition, if individuals have dietary restrictions, the dietician on staff can ensure that specific needs are met to ensure proper nutritional health. 
A sample menu can be found on Heritage Hills website. In addition, there are a variety of dining options. One of these is a private dining room for those who need extra assistance during mealtime. This ensures the privacy of each individual with staff members on hand during meal times to help as residents need them.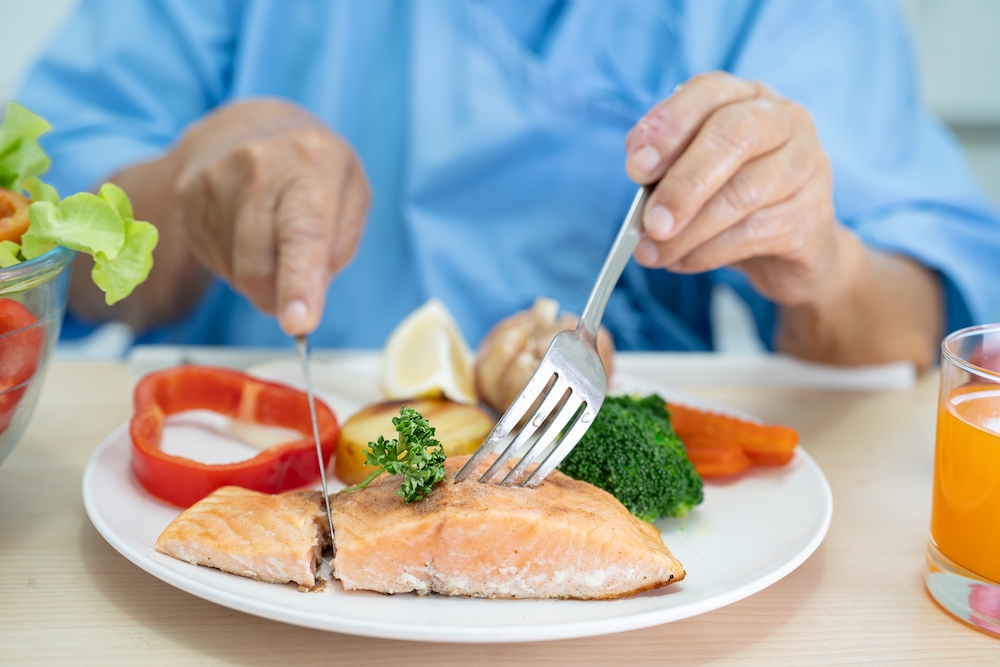 #4) Programs and Activities
Engagement in meaningful activities is critical for proper dementia care. Most memory care communities provide programs that give residents the opportunity to maintain their sense of dignity and self-esteem and improve memory impairment issues.
Staying active is crucial for individuals with cognitive issues, and a program with a variety of options will help residents stay active with opportunities for them to choose from. In addition, many older adults become depressed when they feel isolated, so activities programs help offset these feelings and work to keep feelings of depression away. 
The Event Schedule at Heritage Hills is a full and active one, with options such as arts & crafts, puzzles, various exercises, games, singing, social times and more.
#5) Relaxing Environment
As much as your loved ones need activity, they also need to relax. Because of changes to the brain caused by dementia, individuals with dementia may easily become stressed and confused. Memory care communities put a special emphasis on creating a relaxing environment. This may be done by creating spaces that are relaxing in their color and design and featuring a lot of natural light with opportunities for free time to relax. 
At Heritage Hills, we offer intimate group settings for residents to gather. We also have a therapy garden on our outdoor veranda designed to help reduce pain, improve attention, diminish stress, modulate agitation, and curtail the need for medications. In addition to these items, we have a relaxing spa with a hydrotherapy tub and a beauty salon to help residents look and feel their best. 
The Best Memory Care Community in Oceanside, CA
If you are searching for an exceptional memory care community, schedule a tour today! We would love to show you all Heritage Hills has to offer.