When you are searching for memory care services in Oceanside for your loved ones, it is sometimes difficult to determine exactly what you should expect. At Heritage Hills, we can offer you a new, state-of-the art assisted living community designed specifically for those with memory impairments. 
Our belief is that just because people may have failing health or memories, that is no reason they should not live life to the fullest in every way possible. That is why our residence is not only designed to meet all state health and safety guidelines, but it is also designed with the singular purpose of creating the right environment for excellent memory care. 
Let's look at a few of the spaces and offerings that will make life more pleasant for your loved one at Heritage Hills:
Salon Services
Just because residents spend most of their time on-site, that doesn't mean they don't want to look nice. Heritage Hills offers full salon services to meet those needs and help our residents feel their best by looking their best. 
Residents can make appointments for the services they desire just as they would have done when they lived at home, receiving just a cut, shampoo and blow dry, or going all out with a color or a perm. It is completely up to each resident and what they desire. 
Calming Spa
We also offer spa services such as massage therapy with essential oils to promote comfort and relaxation. Our spa even has a hydrotherapy tub for residents 
Gift certificates for spa and salon services are even available, so these are wonderful services family members can give to residents for birthdays or holidays to enjoy.
Therapy Gardens
Heritage Hills has a beautiful reflection garden. Recent studies support the benefits of therapeutic gardens for individuals with Alzheimer's disease or dementia. Our outdoor veranda offers a therapy garden designed to help reduce pain, improve attention, diminish stress, modulate agitation, and curtail the need for medications. 
Gardening has been shown to reduce stress levels and promote relaxation, as well as improve strength and endurance since it is an enjoyable form of exercise and uses motor skills. In addition, there is further evidence that indicates it allows sensory stimulation that may help reduce the progress of early-stage dementia. 
Mayo Clinic has done research indicating how gardening can lighten people's moods and lower levels of stress and anxiety. Working in a garden routinely is linked to improved mental health, and the duties in the garden can be simple tasks like watering and pulling weeds. WebMD also discusses how gardening reduces negative thoughts and feelings and can make people feel better by keeping them in the moment.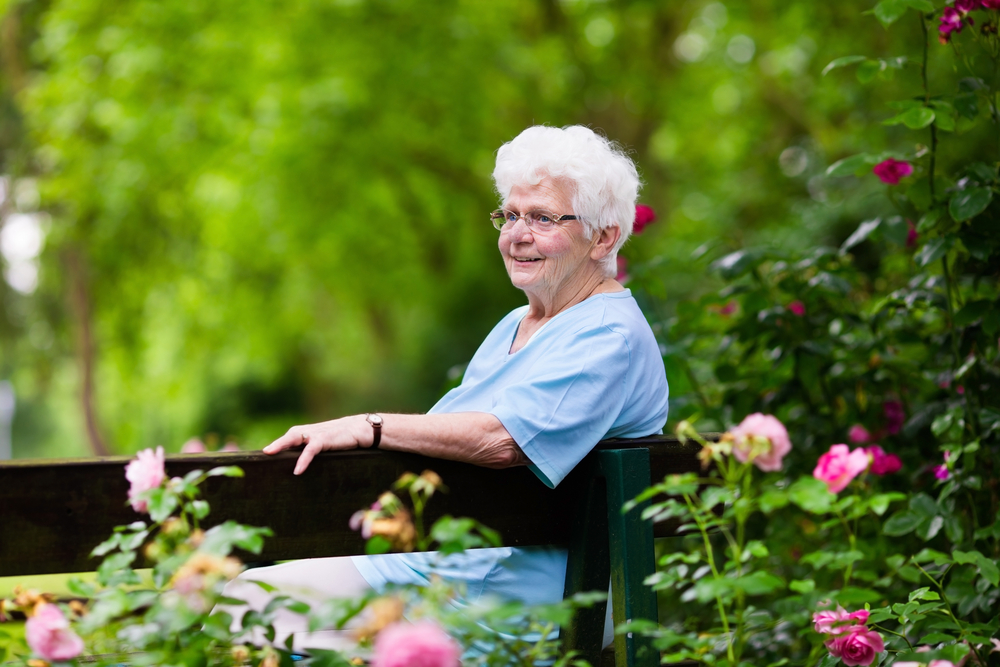 Dining Options 
Since we cater to the unique needs of the individual, there are a variety of options regarding meals. All menus at Heritage Hills Memory Care are developed by a registered dietician to deliver the highest quality and comply with the nutritional requirements of each resident.
Residents can enjoy three delicious gourmet meals daily in a restaurant style setting along with periodic daily snacks. 
However, for those who need extra assistance during mealtime, Heritage Hills has a designated private dining room. This ensures the privacy of each individual and helps maintain their dignity. Additional staff members remain on hand during meal times to help as residents need them.
Whichever way residents decide to eat meals, we provide a wide variety of healthy, filling meals for our residents. Click here to view a copy of one of our menus to see the delicious variety of food we offer at Heritage Hills.
Activity Calendar
We know that when you are looking for memory care services in Oceanside, you will need to consider the activities offered for your loved one. It is very important that senior adults maintain a level of activity to retain their health, and since their interests will be different from one another, a variety of activities must be offered at community living homes. 
At Heritage Hills we offer a very active and diverse calendar with numerous events to choose from each week. This will allow individuals to choose a few each week to try, so they can figure out which fit their interests best. Our calendar offers everything from Games & Puzzles to Wii Fit to crafts or movies. There are numerous selections to choose from, and there should be something for everyone. 
Community Areas
While not everyone may think of community areas as an amenity, since there is a great need for senior adults to be engaged with others, having comfortable and inviting communal areas may be some of the most wonderful amenities that a residence home can offer. 
Our residents enjoy quieter small-group spaces for dining, activity, and leisure. These smaller groupings offer peaceful surroundings; enable personalized care; and strengthen relationships among the residents, their families, and our caregivers. We recognize the value of strong social support in improving our residents' emotional and physical health and general well-being. We want them to be comfortable and worry-free in their surroundings.
These smaller group spaces allow for intimate and friendly gatherings with less stress but also avoid the isolation that can often come with being alone. The spaces at Heritage Hills will help residents feel at home here.
LET HERITAGE HILLS PROVIDE YOUR MEMORY CARE SERVICES IN OCEANSIDE FOR THE BEST DESIGNED AMENITIES!
Our resident caregivers are on-site 24 hours a day, 7 days a week, always looking for
ways to show our residents they are loved and supported. We are on hand and ready to help you or your loved one navigate a move to Heritage Hills Memory Care. Contact us now for a tour or more information!
Let us show you our gorgeous surroundings with beautiful gathering spaces, dining rooms, courtyards and balconies. We provide a safe and vibrant living space that feels like home–because it will be.