Almost 70% of Americans turning 65 will need long-term care at some point. But for those suffering from Alzheimer's, specialized care facilities can provide everything from memory care to other assisted living activities.
Almost 40% of assisted living residents receive assistance with three or more daily living activities, and it's incredibly important for Alzheimer's patients to get adequate physical and mental activity in their day to day lives.
Here are just a few activities that can help Alzheimer's patients.
Crafts
Creating something physical can help Alzheimer's patients' emotions and improve their mood. These crafts should be kept relatively simple, such as painting or knitting. Give the patient encouragement through each and every step of the way, and always be available to lend a listening ear for stories, memories, and more.
At the end, the patient will have created a one-of-a-kind art piece that they can hold on to and feel confident in their abilities.
Cooking
Cooking simple recipes is a great way to help an Alzheimer's patient feel connected to their
surroundings. Cooking should typically be supervised, and recipes should be kept relatively simple.
The bonding experience that comes with cooking and enjoying the food together afterward can
certainly be very memorable.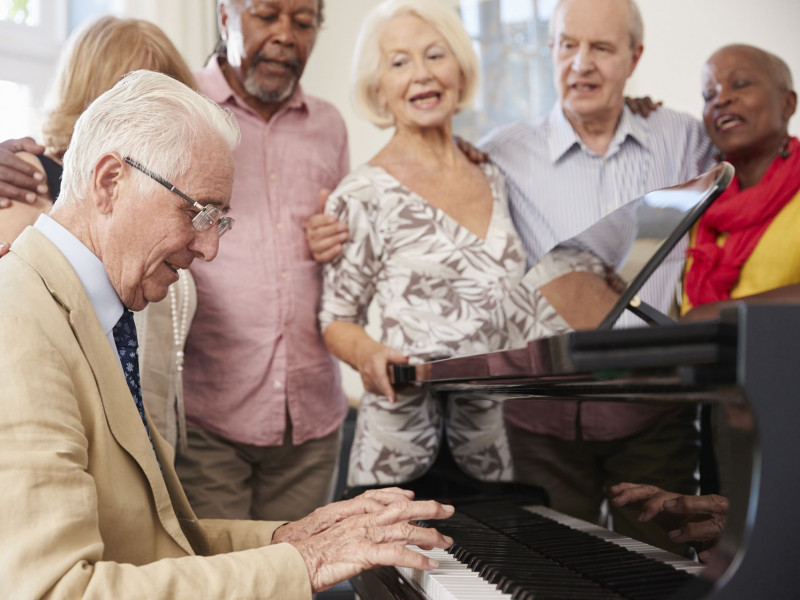 Music
Music is one of the most powerful forces in the world. It can bring people together and invoke distinct memories. Singing and playing songs with Alzheimer's patients can help them recall recent events and foster a sense of deep emotions from within. It also encourages them to express themselves, which can boost mood in and of itself.
Music has been proven to be a powerful way to interact with Alzheimer's patients, whether through song, dance, playing instruments or rhythms, and more.
Ultimately, understanding how to best engage with an Alzheimer's patient is the key to providing excellent care. Keep in mind that each patient is different, and many patients are more active at certain times of the day.
These activities may also differ depending on the level of progression in the particular patient; the majority of people living with Alzheimer's are over the age of 65, but about 200,000 Americans under 65 have early-onset Alzheimer's. Always be patient, trusting, and confident in your abilities to provide care.
For more information about memory care services, contact Heritage Hills of Oceanside.