No matter what age we are, keeping our minds sharp and our bodies active is important at every phase of life. This, however, is especially true if you or a senior loved one has Alzheimer's or dementia. Although it may feel like you or your senior can't do the things they once did because of their diagnosis, there is still plenty of opportunity to be engaged and have fun. If they reside in memory care living in Oceanside, we have a robust schedule of activities they will enjoy.
So what kind of hobbies can they participate in? What are the benefits to staying active? Keep reading to learn more!
The Benefits of Staying Engaged
One of the key elements of getting seniors to stay active is finding something that they enjoy. This will keep them active not just in a physical sense, but socially and mentally as well. There are a variety of benefits, but check out these below:
Gained Independence and Confidence:

Being able to maintain our independence makes us feel more confident and capable of ourselves. No one wants to reach a state where they feel like they are helpless, and staying engaged helps us stay moving and motivated and like we can tackle whatever comes next.

Slower Decline in Skills:

Tying in with the last point, staying engaged helps to slow the decline of skills, allowing existing skills to stay longer. This is an important aspect in maintaining independence.


Boosted Sense of Self-worth:

When we accomplish tasks on our own, big or small, we usually feel an elevated sense of self-worth and confidence. This helps us to stay motivated to tackle the next project or obstacle.

Decreased Risk of Depression and Anxiety

:

Occupying our brains at any age helps us to combat some issues such as depression, anxiety, and stress. Activities like coloring or going on a walk are great mood-boosters. Seniors can take part in these types of activities, too!

Increased Social Interactions:

Making the move to assisted living was a big step, as it probably included moving away from friends and family. However, during your time at memory care living in Oceanside, we want everyone to have fun and make meaningful connections. Participating in planned activities or enjoying meals with other residents means you will have ample opportunities to talk, interact, and connect with those around you, including staff!

Improved Physical Health:

It's no secret that moving your body and staying active improves your physical health. Regular exercise strengthens our hearts, improves blood flow and circulation, and helps counteract joint stiffness, as well as a plethora of other benefits.

Improved Behaviors:

In patients with Alzheimer's or dementia, it is common to find issues with behaviours that can be difficult to tackle for both caregiver and senior alike. This can include agitation, aggression, and shadowing. However, regularly participating in activities and staying engaged can help to reduce these.
Activities to Try
So now that you know all about the benefits, check out this great list of activities to try!
1.) Daily Exercise
As talked about above, daily exercise is great for the body. However, this doesn't mean you have to look like you're training for the Olympics every day! A walk around the park or even the Heritage Hills grounds can go a long way. Or, if that is difficult due to some mobility issues, even doing simple chair stretches will help to improve flexibility and strength.

2.) Arts and Crafts
If you love being creative and enjoy working with your hands, arts and crafts are an excellent choice. These don't have to be long or complicated, and we're not setting out to make the Mona Lisa. However, even simple knitting or painting projects can feel engaging. Plus, this is a great chance to socialize and befriend other residents!

3.) Games and Puzzles
One activity that is really great for seniors with dementia or memory issues is doing puzzles. These can help to encourage memories, work to strengthen mental capacity, and even increase hand-eye coordination. This is also another great choice for socialization. The key is to choose activities that aren't too childlike, but still won't be so difficult that it's frustrating or upsetting. For example, choosing to go with jigsaw puzzles that have large pieces or simple card games are great options!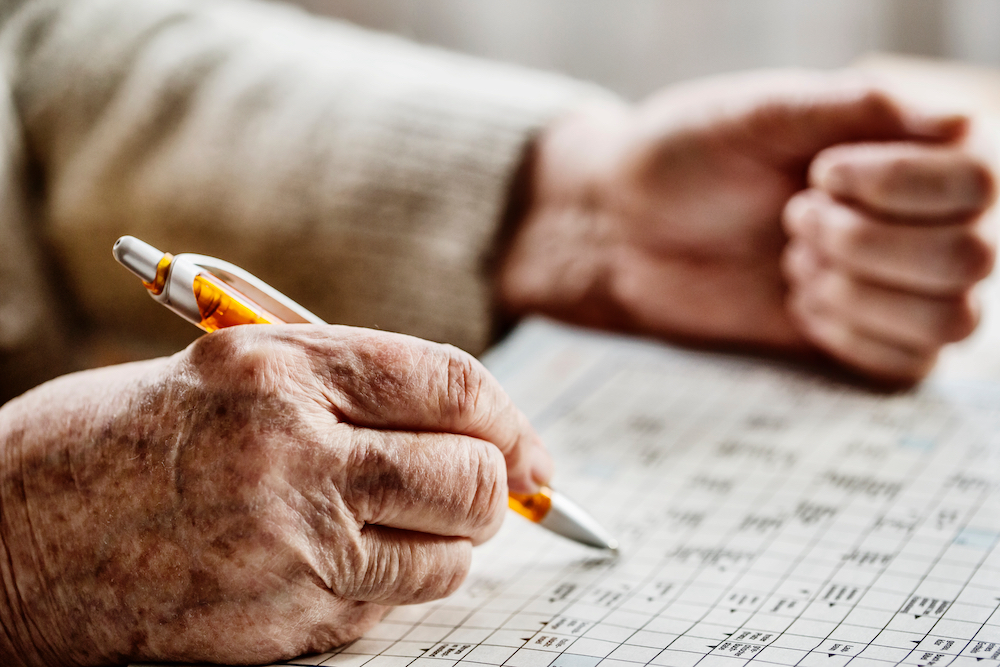 4.) Music and Dance
Music is something that speaks to people across every culture, language, age, and demographic. Regardless of your age, what part of the world you grew up in, or any other aspect of your culture or demographic, music is undoubtedly a part of your life. For those with Alzheimer's, music helps to draw connections and stir up memories that may be buried away. Studies have even been conducted to show that music can help those within the late stages of the disease recall memories they couldn't previously. Plus, with music, adding dancing gives the bonus benefit of physical activity!

5.) Scrapbooking
This activity is not only creative and is great to do with friends or family, but it has the added benefit of allowing memory care residents to review old pictures and recall memories. While many Alzheimer's patients struggle to understand what is happening in the now, they can often recall events from the past with stark clarity. This is also an excellent chance to preserve family history and to hear stories that may have been lost to time otherwise.
Memory Care Living in Oceanside
If your senior loved one has Alzheimer's or dementia, turning to the experts for help is the best bet. Memory care is a specialized type of senior living that is dedicated strictly to those with memory loss issues. This is important because these diseases can present a unique and difficult set of challenges that sometimes, a regular assisted living facility can't handle. However, our staff is here to ensure that your senior loved one lives their best, most enriched life, and feels cared for every step of the way.