Did you know that according to the Center for Disease Control, 12 million people over age 40 are visually impaired, including 3 million with corrected and 8 million with uncorrected impairment? This is quite a large number, all things considered. 
Older Americans are more likely to experience visual impairment due to a few key factors such as:
Diabetic retinopathy, which is known to cause spotty vision

Cataracts, which impairs vision by making things appear blurry

Glaucoma, which can lead to peripheral vision loss

Macular degeneration, which is known to cause loss of central vision
Even if you or a senior loved one is diagnosed with one of these conditions that does not necessarily mean the end of activities! There are a multitude of ways that low-vision seniors can still lead active lifestyles. So whether they live in an Oceanside senior living community, or they stay with a caregiver, check out this list of activities below.
1.) Get Crafty
When looking at a great activity for your senior, try something in the arts and crafts realm. This can include knitting or other needlework. Also, try having them sculpt with modeling clay or sculpting sand to do something tactical and hands on. Switch things up and make a collage out of old magazines or paint using bright and bold colors. 
2.) Listen to Podcasts and AudioBooks
Listening to music is great, but if your senior loves a good story or is an avid reader but is struggling due to their vision impairment, give them the gift of audiobooks or podcasts. These options are wonderful for those who enjoy reading. Check them out from your local library, or browse through any of the dozens of apps online. Or, give them an Alexa and hook it up to the internet, allowing them to request books and stories just upon voice commands.
3.) Fitness
While this might be one choice that you initially rule out, think again! At Oceanside senior living, it is easier than ever to keep up on your fitness, even if you are visually impaired. Try chair yoga or tai chi, or other safe, low-impact exercises. Ask a caregiver for assistance if you want to take a walk, especially when outdoors. 
4.) Board Games and Cards
This is a classic option, as it is a timeless activity that anyone can enjoy. Grab a deck of larger print cards or a set of dominos with bigger dots. Or, if you have something like an Alexa or Google Home, these devices allow you to play games as well, such as trivia, Jeopardy, and Mad Libs. No matter what, you can still join in on the fun!
5.) Helping Around the House
For the senior that likes to stay busy and wants to still be involved around the house, there are some safe chores they can assist with. A few good options would include having them help fold the laundry, water indoor plants, or sort and polish silverware. Depending on the severity of their condition, they could still safely help sweep the floor or wipe down countertops after meal prep.
6.) Listen to Music
Dance, sing, tap your toes – no matter what, your senior can still enjoy the gift of music. With a CD player or portable radio, they can tune into some of their favorite stations. Or better yet, with a device like Alexa, your senior can ask the device to play their favorite song, album, or artist with just a voice command. Build a playlist on Apple Music or Spotify as well!
7.) A Furry Companion
Having a pet means always having a companion by your side. If your senior loves animals, owning a pet such as a dog or cat can allow them to have responsibility and may even help them keep a routine. Plus, petting or playing with animals is not only fun, it is also soothing and good for mental health.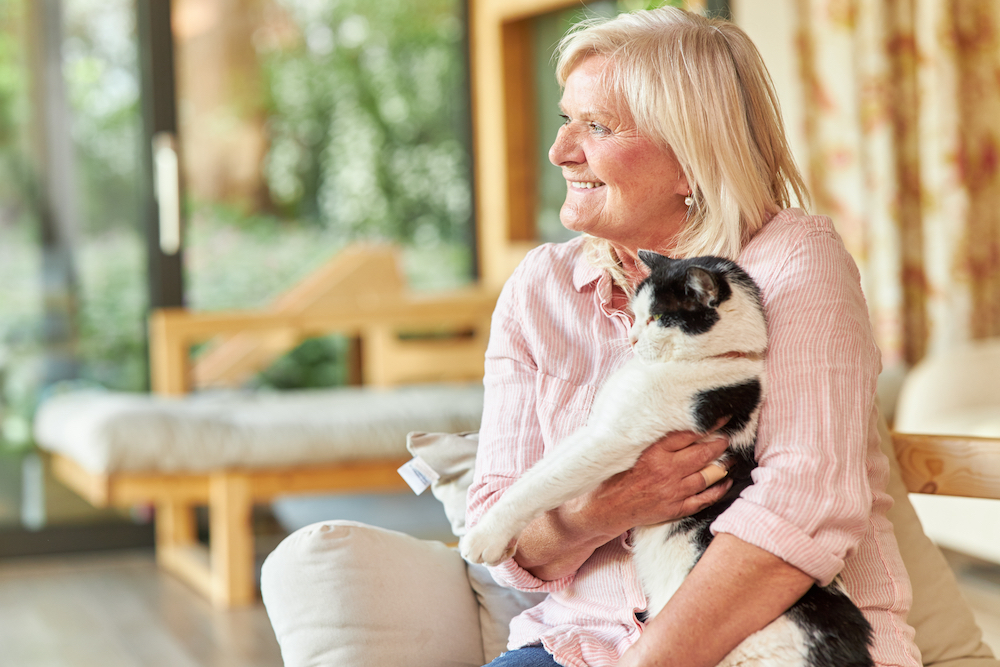 8.) Gardening 
Whether it be indoor or outdoor gardening, this is another tactical option for your senior. It allows them to be involved and hands-on. Taking care of something living always allows us to feel productive and helpful. If there is space outdoors and your senior is able, consider having a small flower or vegetable garden. If your senior loved one resides in an Oceanside senior living community, try a few indoor plant options that aren't difficult to maintain.
Prioritize Safety
No matter which activity you end up doing, just remember to prioritize safety. You can do that by checking out a few of these easy tips!
Watch for trip or fall hazards.

If your loved one is visually impaired, this can be an especially important rule to remember. Clear out the clutter by removing any unnecessary area rugs or anything in the way of walking paths.

Improve lighting.

Ensuring that areas around the home are well-lit is another key safety tip to consider. Adding more lamps and brighter bulbs around the house will go a long way. Also consider night light choices, placing them around high traffic areas such as hallways.

Efficiently organize the house.

Items like the TV remote or our house keys can be difficult enough to find on any given day, though this can be especially true for someone who has a visual impairment. Organize their home or room by making designated cubbies or shelves for small items such as these.

Create contrasting colors with household items.

Depending on their condition, creating contrasting colors can be a huge visual aid for those with visual impairments. Consider creating contrasts in color for wall paint and outlet covers. Do this with other items, such as cups, utensils, and towels. 
Move to Oceanside Senior Living
Making the move to a senior living facility can make the world of difference for a senior loved one with visual impairments. Here at Heritage Hills, we offer awake, round-the-clock care for our residents as well as delicious, restaurant-style meal options and activities that are safe and enriching. With a community calendar as robust as ours, we are sure to offer something for everyone, including a senior with visual impairments. 
Being diagnosed with a visual impairment does not mean the end of having fun or taking part in hobbies. There are still so many great ways to stay involved and take part in the things you love!