With the many benefits found experiencing nature, it is important to choose one of the best dementia care homes in Oceanside that can provide outdoor activities and regular time in a nature setting. Several studies indicate that the majority of Americans spend 90% of their time indoors, often on their electronic devices. Science indicates nature has brain-healing properties we can easily take advantage of simply by opening the door and going outdoors. At Heritage Hills, we can provide the opportunities in nature that add joy to life. Let's look at some of the ways spending time outside can help you and your loved ones. 
#1.) Improves Memory
Research shows that time in nature can improve focus and ability to concentrate, as well as enhance memory. For memory care residents and the challenges they deal with on a daily basis, this is a crucial reason for more time outdoors. Studies show that both ability to focus and short-term memory improved 20% after spending just an hour in nature. 
We at Heritage Hills understand the importance of nature for potential residents looking at dementia care homes in Oceanside. Heritage Hills has much to offer residents. Our Therapy Garden supports research that therapeutic gardens provide several benefits for individuals with Alzheimer's disease or dementia. Our specialists strive to provide the very best care options in every area available.
#2.) Boosts Heart Health
Any outdoor activity enhances heart health. Even just walking or spending relaxing time in a garden is necessary exercise for those who might live a sedentary lifestyle without the outdoor opportunities. The American Heart Association (AHA) emphasizes that regular physical activity can lower blood pressure, cholesterol and blood sugar levels, and it can improve circulation and strengthen your heart. Numerous studies show time in nature can lower cortisol and blood pressure levels, which also impact cardiovascular health. A recent study showed fewer cases of high blood pressure among adults who spent just 30 minutes in outdoor spaces each week.
Spending time outdoors has been linked to numerous physical and mental health benefits, including reduced risk of disease. An important point to note is, just a little time in fresh air and sunlight can improve your heart health and well-being: 15-30 minutes a day can make a difference. You will find many outdoor activities included on our calendar of activities and events at Heritage Hills.
#3.) Reduces Stress
Being outdoors can be relaxing, and many people use nature as a place to recharge themselves for good reason. Time in nature is shown by the American Heart Association to lower stress levels, which also impacts cardiovascular health. Research indicates even 20  minutes in nature lowers stress hormones in the body. This time can just be sitting in nature and does not have to include exercising, making this an easy benefit to achieve. 
In addition research shows being outdoors lowers stress and anxiety levels while also reducing symptoms of depression. On Heritage Hills outdoor veranda, we offer a therapy garden designed to diminish stress, improve attention and reduce pain. In our online photo gallery, you can see some of the beautiful views from our windows and some of the outdoor areas we offer.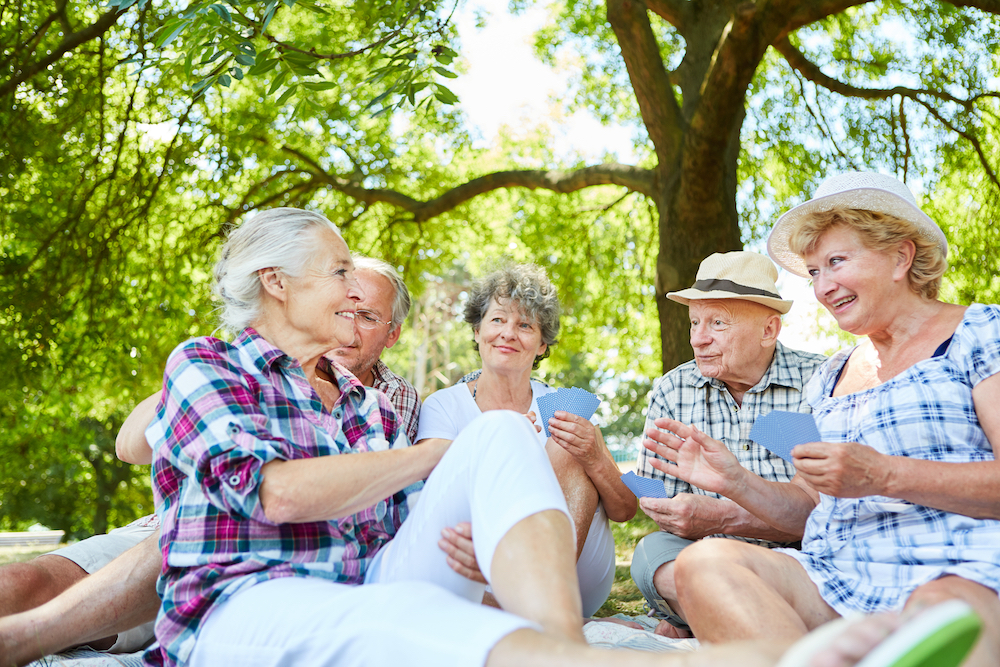 #4.) Enhances Sleep
Studies show that natural light enhances sleep, helping individuals fall asleep, stay asleep longer, and have more quality sleep time. Sunlight helps regulate the body's circadian rhythm. Being outside often leads to increased activity, so you may be motivated to walk more, garden, have a picnic, or even paint, sketch or photograph the scenery surrounding you. You may discover new outdoor hobbies that you can enjoy.  Increased activity also leads you to sleep more soundly. 
At Heritage Hills we can help you find the right living arrangement for your comfort level, helping you achieve increased sleep time and quality. With a variety of floor plans and numerous amenities to keep you comfortable and healthy, we can help you find the right setting to call home.
#5.) Extends Longevity
Besides enjoying life more fully, research shows greater time in nature was associated with a 12% lower mortality rate. You can let the outdoors lengthen your life, which makes sense since it has been found to reduce the risk of heart disease, obesity, type 2 diabetes, and even some types of cancer. The countries in the world with the longest life spans include lifestyles with significantly more time outside than most others. 
In addition, at Heritage Hills, our caregivers are available 24 hours a day, 7 days a week, to provide residents with the most support and a full range of care. We provide a safe and vibrant living space that feels like home, with easy accessibility and gorgeous surroundings. 
Memory Care at Heritage Hills
The benefits of being outside should be motivation enough to open the door and go explore. Physical and cognitive health, reduced stress and increased sleep, all lead to the potential of a longer life. Nature can improve your overall health, and we are pleased to be able to offer experiences and time outdoors as part of our residential living environment at Heritage Hills. 
The Washington Post reports that older adults who spend more time in green spaces have a lower rate of hospitalization for Parkinson's disease, Alzheimer's disease and dementia. Time in nature is a way to healthier aging. We can improve body and brain health just by spending time outdoors: it reduces harm by lessening exposure to air pollution, noise and heat; it provides psychological restoration through stress reduction and improved concentration; and it facilitates healthy behavior by encouraging at least minor physical activity and interaction with others or, at a minimum, the environment. 
Let our professional staff at Heritage Hills help you decide on the best living arrangements for you. We would love to be your choice of dementia care homes at Oceanside. Contact us for more information or to schedule a tour of our community. We'd love for you to learn more about our outdoor areas and activities, as well as all we can do to provide you with the best community living arrangement.