With so many additional senior adults moving into senior living each year, it is a good idea to consider the reasons this living arrangement may be the right one for you.  
There are numerous benefits to this type of community living that you should think about as you decide on your future living situation. Besides having the care of a professional staff 24/7, moving to a senior living residence increases your socialization and overall health. 
Having friends can strengthen our immune system, help us recover more quickly from illness, and sharpen our memories. According to studies conducted by Mayo Clinic, older adults who have meaningful relationships and social support are likely to live longer lives than their peers with fewer connections.
If you decide to look into senior living, you can find quality care and new friendships at Heritage Hills, our retirement community at Oceanside.
THE POWER OF SOCIALIZATION
Making friends and increasing socialization has been shown to have a positive impact on the immune system, lessening the number of colds, lowering blood pressure and improving the ability to fight off illness in those who socialize the most.
According to the American Psychological Association, loneliness has been found to raise individuals' levels of stress and lead to lack of sleep. Both stress and insomnia can lead to numerous other illnesses for people.
Socialization, on the other hand, also helps mental health by fighting depression and boosting self-esteem. Maybe even more important for our retirement community at Oceanside is the evidence showing that those who live less isolated lives are less likely to develop dementia. Since this is a growing disease in older adults, to have something as rewarding as friendships help fight off dementia is incredibly positive. 
ADVICE FOR MAKING FRIENDS
Friendships can sometimes be difficult as people age, especially with mobility issues and other health concerns; however, senior living communities offer new ways to enjoy these friendships and the benefits that come with them.
As you consider senior living, let's look at a few tips for making friends at your retirement community:
#1)
Meet Other New Residents
Extend and accept invitations to activities with others. You should seek out other new residents or those who have moved in after you. You can help the newer individuals get acquainted with the community by showing them around, especially to your favorite spots, and find out what common activities you may be interested in, too. It is a chance to give advice about issues new residents may have when they are new to a place. 
If you haven't met new friends just yet when you have first moved into a new place and are uncomfortable attending events alone, you might consider inviting a friend or family member to attend a few activities with you as you begin to meet people and make friends. 
Consider what might make things easier for you at first, and then you will be better able to help newer residents as your time there progresses.
#2)
Make Meals Social Events
As you meet people throughout your daily activities, invite them to join you for a meal in the cafe or dining room. This is a splendid way to get to know people better and make even more lasting friendships. 
Set a specific time for your lunch or dinner, bring people together and make it an event. You might even plan a game during or after the meal. This can lead to groups becoming long-term friends and enjoying many meals together.
When you are a new resident, meals can be a time to invite a family member or friend from outside your community to join you, if you are initially feeling lonely and need help meeting others. 
At Heritage Hill, we offer a wide variety of healthy meals to residents for their dining experience. Exploring the options with others can add to the enjoyment of the meal experience. 
#3)
Be Involved in Community Activities
Take up a new interest, find a new hobby, or revive a previous activity from your past. Most communities will have a varied and plentiful calendar of activities which you can participate in each week. It is up to you to get involved in the ones that most interest you.
Diverse offerings cover many different  interests for residents. You should find a couple of activities every day that interest you to try out and discover the ones you want to participate in regularly. Setting up a routine of involvement will help you enjoy your time and meet others who have some of the same interests as you.
At Heritage Hills, we offer an active calendar of events to encourage continued involvement and the time to meet others and socialize. You will find games, art activities, music, pampering events and more. Look over the monthly calendar to see all that is offered for residents. There is something for everyone!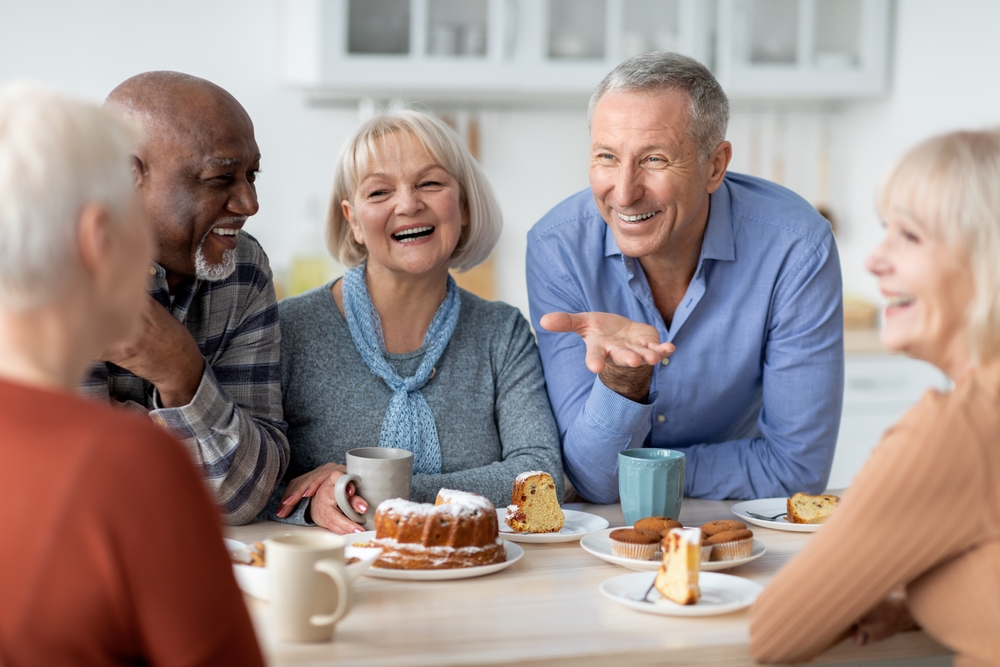 JOIN HERITAGE HILLS, OUR RETIREMENT COMMUNITY AT OCEANSIDE!
Heritage Hills is a memory care community where our professional staff make a point to know each resident personally. We offer a variety of living arrangements to best suit your needs, with ample activities to keep your mind and body active as you meet others and enjoy companionship. 
Friendship can relieve high levels of stress, which can impact coronary arteries and stomach function. A study with Elder Care Alliance shows your overall survival rate increases by 50% if you have strong social relationships. 
With a network of professional staff at their disposal around-the-clock — including highly trained caregivers and nurses, activity directors, chefs, launderers, and housekeepers — those in our care enjoy greater comfort, security, and social enrichment than is often not possible at home. This network of caregivers and fellow residents creates a community of familiar faces and compassionate friends.
If you are interested in finding out more about Heritage Hills and all we have to offer, we would love to schedule a tour so you can see our residents' rooms, community areas, and meet the professionals on our staff. 


Your Content Goes Here