We are off to a great start this new year, and if 2022 is about prioritizing your health, you might be on the hunt for outlets to help you reach your goals. Of course, we could all use a little more exercise and drink more water, but what else can be done? While social media can sometimes get a bad wrap, believe it or not, it can actually be a great tool for Oceanside senior living residents! 
When social media was first introduced, many thought it was going to be a passing fad or just another trend. However, it has actually changed the landscape of technology and human interaction completely, making it easier than ever for people to connect and communicate. You can now watch entire concerts live on Facebook, learn about science facts or get professional cooking tips on TikTok, or even watch real-time stories updated on Snapchat. There are even countless bloggers out there who teach fitness and home workout videos. The possibilities are endless!
So which social media platforms should seniors check out? Keep reading for our breakdown!
1.) Facebook
Did you know that Facebook has almost three billion active users? That is quite a chunk of the human population! Not only is it a great way to connect with people, such as friends and family, or even former classmates or coworkers, but it has other advantages as well. For example, it can be pretty easy to find specific content, such as 'chair yoga videos' or 'senior nutrition tips' that you can review. That is not the best part about Facebook, however.
Facebook is unique in the sense that it offers something called 'Groups'. These are usually virtual social settings that are created with a certain purpose or content in mind. This could include a specific interest, such as a senior gardening club, or a group dedicated to discussing classic western movies. Staying engaged with the topics that interest you is great for mental health and keeping the mind sharp as we age!
In addition, these Facebook groups can also mean support groups. Many people need support for different trials they are going through or problems that they are facing and older adults are no exception. Whether you're having concerns with memory loss, need help coping with the loss of a loved one, or any other type of support, we can guarantee that some sort of group exists out there. If not, you can always make one and people are sure to join!
2.) Twitter
While Facebook's primary purpose is geared for community and connection, Twitter is all about trends and getting information quite quickly. On this social media platform, seniors can connect with doctors, nurses, chefs, fitness instructors, and so much more from all over the world!
One unique concept that Twitter created is the hashtag system that can be used for finding information quickly and effectively. For example, if you are wanting to search 'Senior Health Tips', but it in hashtag form, stylized as #SeniorHealthTips. Click on that and it will take you to every tweet that features that same hashtag. This is a great way to find the information you want without having to scour the internet for it. 
As an added bonus, use this for your interests as well! Look up #SpringGardeningInfo or #SeniorYogaVideos and you will undoubtedly stumble across a wealth of great content geared toward your pastime or hobby.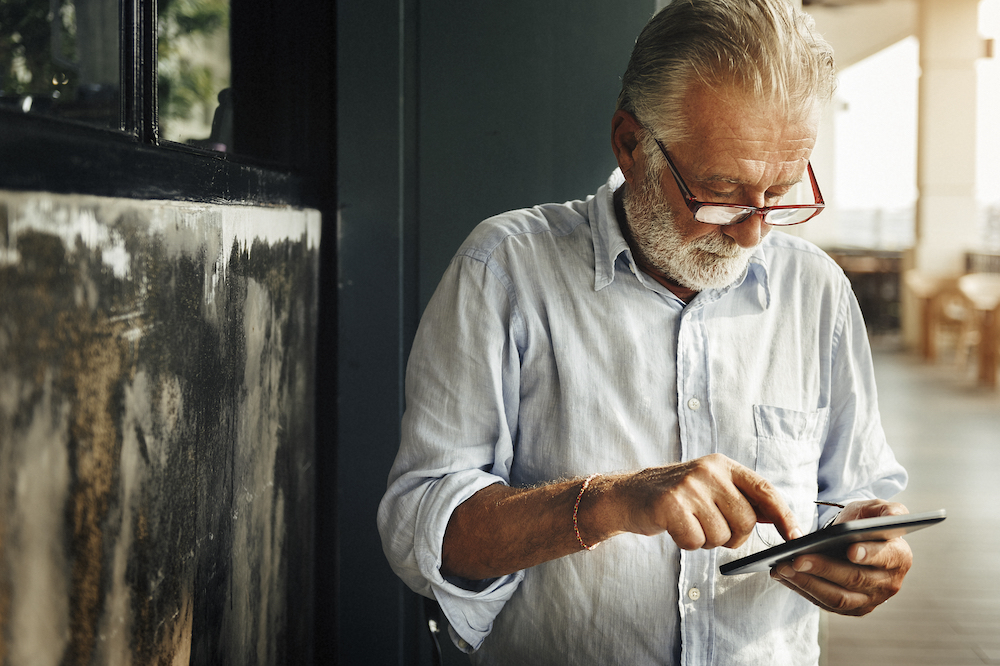 3.) Instagram
Rather than focusing on longer posts, such as those on Facebook, Instagram is centered around images and videos. Many use this platform as a means to blog about fitness, food, and overall well-being. There are many senior social media users who focus on all of these things, but geared for an older audience as opposed to teens or millennials. 
Instagram, like Twitter, implements the use of the hashtag system. You can track down what you need by searching information such as #HealthyRecipes, which will take you to a list of posts or pages that can provide recipes and wellness tips. 
Of course, you still use this platform as a way to stay in touch with family and friends! Many use it to share pictures of their life, travel, pets, and family. So if your grandkids use it to show off their time studying abroad or your child loves to share images of the kids and family dog, this is still an excellent way to connect. 
4.) TikTok
While this is the newest of the social media platforms, it is certainly not the least. TikTok gets somewhat of a bad reputation due to how it is portrayed in the media. However, it can actually be quite a useful tool! 
Behind TikTok stands a powerful algorithm, one that is designed to help figure out your interests and then cater what you see based on those interests. This could be about politics, music, TV shows, comedy, education, and so much more! TikTok creators make bite-sized content, ranging from just a few seconds all the way to three minutes. If you don't like what you're viewing, just swipe up and go to the next video! 
TikTok isn't just for teens. In fact, an 82-year-old fitness influencer has found quite the following on the platform, sharing her journey through health and wellness. There is definitely something out there for everyone!
Wrap Up
If there is one thing for certain, Oceanside senior living residents are definitely not 'too old' for social media. As you can see, not only is it an effective way to bring people together and stay up to date with one another's lives, but it can be a tool for wellness and fitness as well. If you're not sure how to get started with social media, talk to your child, grandchild, or another friend or loved one. 
If you have a smartphone, like the majority of Americans do, it is simple to hop and be connected! If you are feeling overwhelmed at first, that is okay and perfectly normal. Take a break and only plug in when you want to. Whenever you're ready to make that connection, the possibilities are endless!