One of the best things in this lifetime is the people we get to share it with. Friends, children, grandchildren, cousins, parents – each person we encounter has an impact on our life. They are who we laugh with, cry with, and share our most precious moments that become our fondest memories. 
From the day we are born, socialization and spending time with others helps us to grow, learn, and develop. Even through our school years and into adulthood, it is important to have friends and people that we can connect with and talk to. This sort of socialization is key, and is no different even for elderly adults who reside in memory care living in Oceanside. 
So what exactly is socialization and what ways can it help those specifically with Alzheimer's or dementia? Keep reading to learn more!
Defining Socialization
When looking at socialization through the scope of aging and dementia, it includes helping seniors interact with others, as well as the environment around them, in a controlled, stable setting. This can look like several different things. 
Firstly, it can be in an effort to spark the senses and engage with the world around them. This can include going to a brand new location, such as a park or a zoo, and getting exposed to new elements and experiences. Stopping to smell the flowers, enjoy the views and fresh air, and overall, just getting a little time out of the house. Socializing with new environments is just as important as it is with other living things
Or, as a second option, you can get exposure to people and animals. Whether they be new faces or familiar ones, or spending time petting rescues dogs from your local animal shelter, this sort of socialization provides direct interaction with other living beings. Sometimes, spending time with other people might be overwhelming, especially if your senior had a difficult time remembering a face that day. Animals provide a great, soothing outlet in this instance. 
Either option you look at, engaging with the environment or others, all helps to provide a sense of community and connection to a senior with memory loss issues.
In What Ways Can Socialization Help?
According to experts, below are the four main reasons that socialization benefits seniors, especially those with Alzheimer's Disease or dementia.
1.) An Increased Sense of Belonging
No one wants to feel ostracized or left out. Isolation is a dangerous thing for anyone, but can be especially detrimental for someone with memory loss issues. Interacting with others, even in a passive or laid back setting, can help to increase a person's feeling of self-worth. Knowing that you are wanted and feeling as though they belong or are part of the group is a sure fire way to boost your spirits, too!
2.) Improve Brain Health
Spending time with other people isn't just good for the soul – it's good for the brain, too! According to research, those who spend time with others at the earlier stages of Alzheimer's are actually more likely to slow down the progression of the disease in comparison to those who isolate. So if you have a parent or grandparent with a recent diagnosis, it's never too early to connect. Carve time out of your day or week to spend time together. 
3.) Grounding to the Present
One of the symptoms of Alzheimer's Disease and dementia is that patients tend to lose connection with the present. They are prone to have lapses in memory, sending them back to a different point in time. This can be jarring for both the senior and caregiver. However, socialization helps to provide a normal sense routine, and allows them to feel more connected with the present time and place. While lapses can still occur, socialization is still incredibly beneficial.
4.) Improve Focus
For many older adults with memory loss concerns, transitioning between reality and daydreaming can happen without notice. However, the more time a senior with dementia spends socializing and engaged, the more inclined they are to stay focused and alert. 
Avoid Overstimulation 
All of that being said, it is important to be mindful of overstimulation. The last thing you want is for your senior to be in a position that makes them uncomfortable or triggers agitation or feelings of anger. This can lead to outbursts or episodes of confusion. While socialization and spending time with others is a wonderful thing, it is okay to take a break.
If you notice that your senior loved one is starting to experience an onset of negative feelings, or are getting irritated or confused, don't correct this behavior. Instead, try to remove them safely and effectively from the situation. Go somewhere familiar, such as their room, to take a breather. 
Socialization and COVID-19
The ongoing pandemic has made socialization more difficult, and has caused many seniors to isolate themselves. While this has been an effective measure in combating the spread, it has also caused some issues for those with dementia. Thankfully, however, technology makes things easier. So whether your senior still lives at home or they stay in memory care living in Oceanside, simple measures such as phone calls and video chats go a long way in staying connected in a way that is safe. 
Not only that, but many virtual games are available, too. Use an app to play chess or checkers, or to connect through various other means. Connecting virtually isn't as simplistic or basic as it once before, providing a multitude of opportunities to spend time together, even when apart.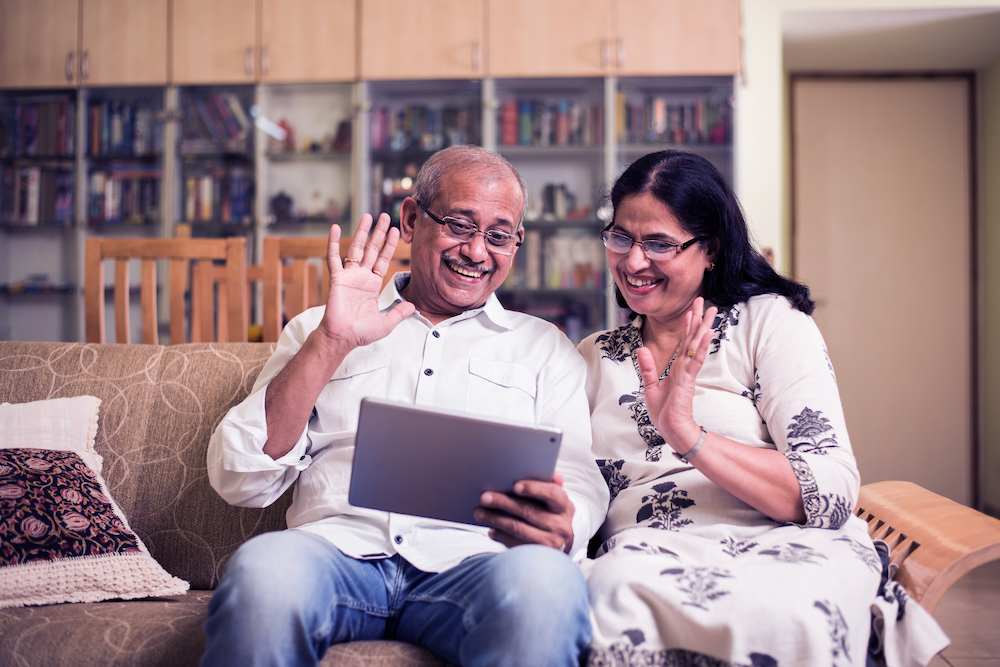 Memory Care Living in Oceanside
Here at Heritage Hills, we understand the value of socialization and making sure our residents feel stimulated, involved, and connected. That is why we do our very best to offer a diverse monthly activity calendar. On this calendar, we provide many different activities per day, including Gardening Club, going on walks, coloring and puzzles, watching movies, karaoke, going for a scenic drive, playing Bingo, and so much more! No matter what your senior likes to be involved in, there is surely something for everyone.