Sometimes, there is nothing more refreshing than spending time out in nature. The fresh air, the sun on your face, the breeze in your hair – it can almost feel healing. People of all ages enjoy spending time outdoors doing a multitude of activities, including hiking, riding a bike, or even walking the family dog. However, it can be especially beneficial to those who reside in memory care living in Oceanside.
In this blog, we want to explore some of those benefits as well as list some activities that you can enjoy with your senior loved one. Keep reading to learn more!
1.) Get Out and About
For many seniors with dementia, spending time outdoors and away from their homes can be tricky, especially for those in the later stages. This is due to the fact that sometimes places like parks and shopping malls can be crowded, creating sensory overload and making the senior feel confused or disoriented. 
However, that being said, it's certainly not impossible to enjoy the great outdoors! Plan for activities that are stimulating but not overwhelming. For example, go on a walk around your neighborhood so you are still relatively close to your house. Or even start up a garden in your backyard! This will keep you in close proximity to your home without risking paying a visit to a place that is crowded. 
2.) Socialize and Connect
Here at our memory care living in Oceanside, we understand the value and importance of seniors not only spending time outside, but also with one another. For many seniors with dementia, they can be prone to isolate or hide away from the world. This does not only worsen their condition, but also increases their susceptibility to other conditions, leading to a faster deterioration of their overall health. 
For that reason, we here at Heritage Hills have created a robust and diverse activity calendar that is focused on our seniors spending quality time with one another. While it does feature some indoor activities, there is also a wide variety of things that many can enjoy outdoors. Spring is in the air and we want our residents to make the most of it! They can choose to be a part of our daily walk, join our garden club, or even sit on our outdoor patio and socialize while they enjoy coffee or tea. Either way, we want them to get their daily dose of beautiful, California sunshine. 
3.) Revisit Nostalgic Places
While going out in public does have its risks, that doesn't mean it is something you should avoid doing altogether. Think back to when they were younger, or even before their diagnosis. Was there somewhere they truly loved to visit or do outdoors? This could be something as simple as going to the farmer's market, taking them out fishing, or even to a pond they loved to walk around and feed the ducks. Places like these can hold a lot of precious memories and nostalgia. 
When you do visit any place like this, just remember to use your best judgment and discretion when picking a time to go. If there is a special event or if it is going to be overly crowded, it is probably best to go another time. Opt for an earlier time or when you know it's going to be slower.
4.) Great Exercise
We know how tempting it is to stay inside all day and watch TV or read a book. This might be the case for your senior loved one as well. As their dementia progresses, they may be even more prone to want to stay sedentary or inactive. However, this will certainly leave them in a worse position medically. Getting exercise is a great way to keep the body strong.
It is important to remember that by getting exercise, we don't mean that they need to go out and train for a half marathon or take up powerlifting. Instead, what they can do are activities that are still mindful of their age and mobility level. Anything that gets them moving outdoors is a good thing! Taking a walk, riding a bike, going for a swim – these are all perfect ways to stay active while staying outdoors in the fresh air!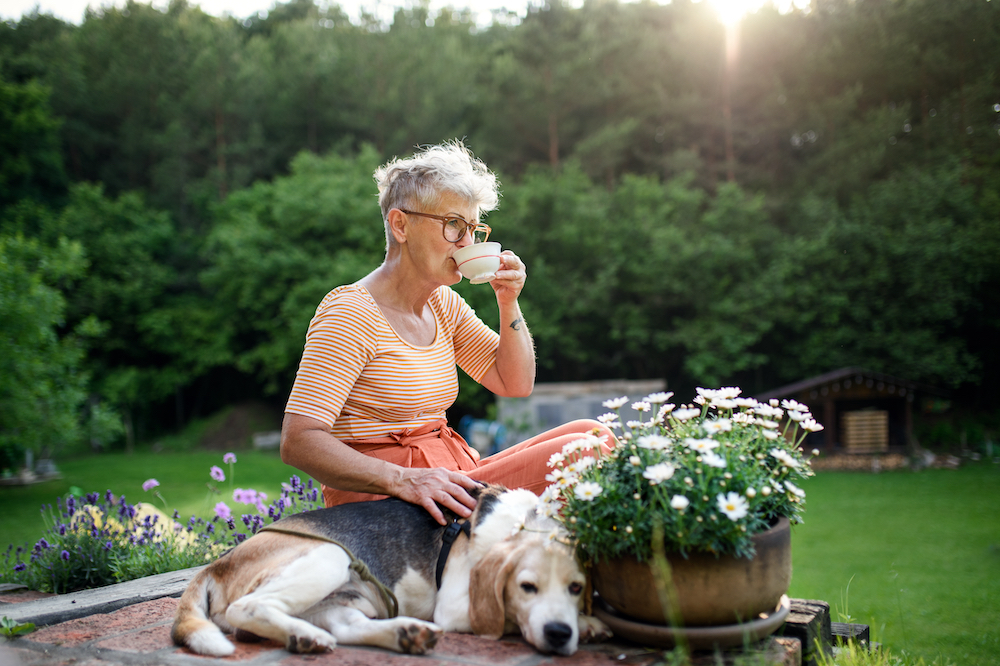 A Few Things to Keep in Mind
When you are spending time outdoors with your senior loved one with dementia, there are a few reminders that you should keep in mind.
Distractions are okay:
One of the main things you should remember is that distractions are bound to happen and when they do, it's okay! If you are out bird watching or feeding the ducks, and your loved one gets distracted by the kids playing frisbee, don't redirect them back to the task. It's okay to let them just enjoy being outside and observing everything going on around them. 
Change plans when you need to:
Calling an audible isn't just for football – you can change plans whenever you need to! If you had planned to go to the zoo one day, but you pull up and find the parking lot is packed and you're not sure if your senior could handle that level of interaction, just switch gears. Instead, take your senior out to grab an ice cream cone and walk around the park instead. This way, they still get to do something they enjoy without any of the pressure. 
Have fun together:
Unfortunately, we all know that there is no cure for dementia. That is why it is so very important to enjoy every moment we can with our senior loved ones. Time outdoors can be a great way to build lasting memories that you can cherish for a very long time.
Memory Care Living in Oceanside
Here at Heritage Hills, memory care is all that we do. We know that a diagnosis of dementia or Alzhiemer's can be a heavy load to bear, but that is why we want to support your and your senior loved one as much as possible. To learn more about us and what we do, or if you have any questions, feel free to contact us today!