In the not so distant past, generations of families lived together under one roof and assisted one another in many ways. Their livelihood depended on each other. The benefits of jobs went together to cover expenses, and they all took care of the home and of each other. There were many advantages of living together as one intergenerational unit. 
Today we can look at the benefits of intergenerational relationships found between residents and professional staff at Oceanside senior living care residences like Heritage Hills. Let's look at some of the benefits of those relationships:
#1) Mutual benefit in learning new ideas
All people change and grow as they learn new ideas, and learning from people different from yourself is one important way to do this. Therefore, developing relationships with those who are younger or older than you are is a way to expand your knowledge. 
Spending time together allows for many advantages, including the transfer of informal knowledge of life skills and more. Senior residents may have tips about health that come from gardening from their time on the farm with their parents or spouse and children, or they may have ideas for home remedies for helping a staff member help her baby sleep through the night from when they had their own children. 
On the flip side, the younger staff member may have ideas for new types of tea that will help with digestive issues or scents from flowers that could help the resident fall asleep at night without medication. 
Sometimes simple ideas between people promote unique approaches to daily problems each generation may be dealing with.
#2) Learning new skills
New skills are a wonderful way for bonding between generations. Think about all of the skills that could be shared between generations.
Senior adults could consider sharing skills like knitting and crocheting with younger ones. This could be done in a group setting where the skill is taught and stories are shared with the group for even more bonding. Very often, none of these skills are taught in schools any longer, so many individuals may not know how to do them. 
Other skills could be working on older cars or trucks. Many individuals love to own classic vehicles, but few know how to take care of them. They could do the work while the older adults supervised and explained the skills needed. Other skills could be woodwork or elements of carpentry like crown molding or casing in houses. 
Younger adults could help seniors learn to be self-sufficient with computer knowledge. They need to be able to handle many basic daily needs in today's world, such as appointments, emailing or facetiming with family or friends, ordering items from online stores, and looking up information. In addition, they could help by showing seniors where to find their Social Security and Medicare information since all of that is online, too. 
The Heritage Hills community offers a well-developed calendar of events to choose from in its beautifully designed gathering spaces, dining rooms, courtyards and balconies designed as a comfortable home to make connections and learn from one another.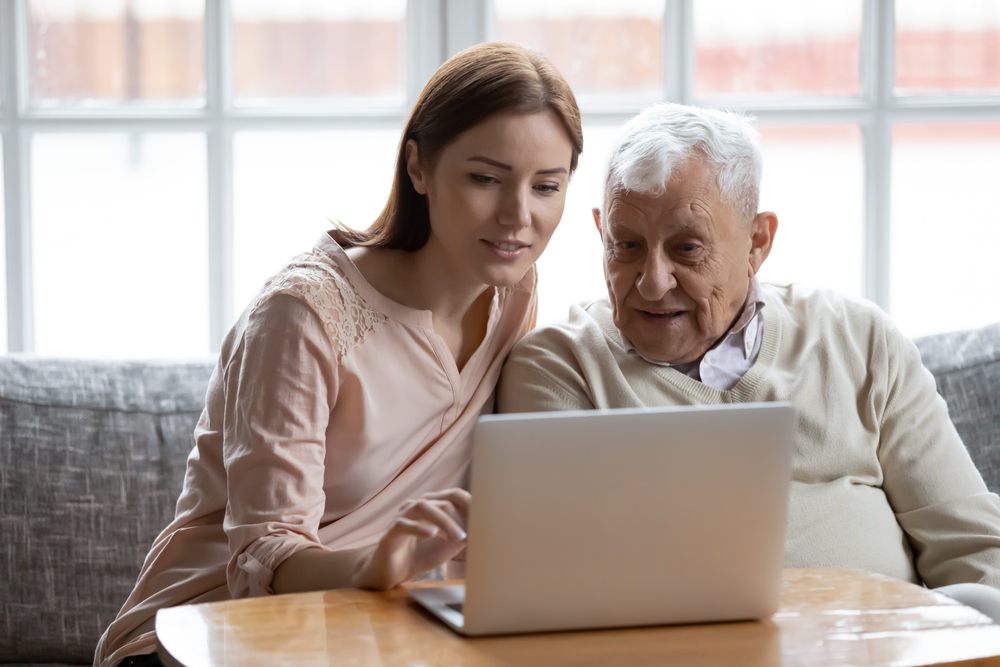 #3) Interconnectedness among people
All people need a sense of connection. Research suggests that isolation for seniors is especially damaging for their health, putting them at risk for high blood pressure, depression, cognitive decline, Alzheimer's disease and heart disease. All of these can result in an earlier death. 
Interconnectedness between generations helps offset loneliness for senior adults and can add joy to the life of all ages. Collaboration between senior and younger adults can help the younger generation develop skills needed in the workplace and assist the seniors with a more healthy, vital lifestyle. Both generations can feel more productive with opportunities to grow. 
Some assisted living homes even bring in children to visit residents, facilitating foster grandparent programs for the kids or having reading programs where either the residents read to the children or the kids read to them. Either way, companionship is a way to learn from one another. For many children, this is a way to have grandparents when they may live very far from their biological ones even if they have them; for the seniors, this can ease loneliness if their family members are too far away to visit often.
REASONS FOR INTERGENERATIONAL CONNECTEDNESS TODAY
Heritage Hills Oceanside senior living provides numerous opportunities for connections with its living options and purposeful design. Experiencing intergenerational bonding and learning cooperation between generations may be even more critical since many families live hundreds of miles apart, rarely seeing one another throughout the year, and more and more people are deciding not to have children and are aging alone. 
Research in Forbes explains in the past decade a number of experts have begun to challenge the wisdom of the current segregationist trend and, instead, suggest bringing generations together. They recognize a need for older and younger individuals to learn how to live and work together and respect one another throughout their lives. 
Generations need each other to expand their worldviews through those connections with people of varying ages. Through this diverse connection, overall society will benefit. 
REACH OUT TO HERITAGE HILLS!
Our community at Heritage Hills Memory Care combines world-class care with the personal touch of genuine kindness. We uphold the highest standard of excellence by employing the best caregivers in the industry — people devoted to seeing our residents thrive in a loving environment that feels like home. We can help you make those intergenerational connections to add richness to your life.
With a full calendar of events that include social, educational, religious and recreational activities to meet your desires and needs, there will be plenty to keep you busy as you make connections and stay busy.
We would love to show you everything Heritage Hills has to offer. Call us today or schedule a personal tour of our community online.