Summer is a wonderful time to enjoy different activities to do with your loved ones, and the senior adults in your life are no exception. As long as you pay attention to the weather outdoors to stay safe, you and your older loved ones can enjoy numerous fun activities. 
As a caregiver to those with dementia, you know the importance of staying active. These activities can help both physical and mental health. You may decide to select the best Alzheimer care in Oceanside CA to help you with the care of your loved ones, and at Heritage Hills, we are waiting to tell you how we can help you meet the needs of the senior adults in your life.
Let's look at some of the beneficial summer activities that you can plan for enjoyment with your senior loved ones.
SUMMER ACTIVITIES FOR MEMORY CARE RESIDENTS:
#1) Plant a garden
Gardening can be a beneficial activity for senior adults. It can be done with low impact to the body, and research indicates that there is a great benefit to digging in the dirt and using your hands as you plant in the garden. 
In addition, the sunshine provides vitamin D which boosts your mood and also is shown to reduce some symptoms of Alzheimer's disease. Working outside in the sun also helps regulate your system and leads to better sleep during the night.
At Heritage Hills, we offer a Therapy Garden for our residents because we know the value of time gardening for individuals with Alzheimer's or dementia.  Our outdoor veranda offers a therapy garden designed to help reduce pain, improve attention, diminish stress, modulate agitation, and curtail the need for medications. 
#2) Take a walk and enjoy nature
Walking is an easy and casual way to get a bit of exercise while enjoying your time. You are able to move at your pace, and if you select walking spaces with benches or even large rocks, you are able to stop and rest when needed. 
You and your loved one can walk alone if you are staying in your yard or neighborhood, or you can walk with a small group, if you choose. Walking in a group can be a fun, regular activity to help establish ongoing friendships. 
While you walk there may be other interests you are able to pursue. If you enjoy bird watching, you can enjoy that as you walk. You could even keep a journal of when and where you see particular birds. Also, if you enjoy watching butterflies, or looking at the variety of plants and flowers growing, these are other hobbies you can pursue as you enjoy the outdoors. 
#3) Have a picnic or a meal with friends
Eating outside can be great fun if the weather is nice. You can pack a simple lunch or early dinner with sandwiches or chicken, crackers, fruit and other easy to eat items and take them on your picnic. Most residential homes have nice lawns that would work for a picnic area.
If the weather is too hot, windy, or rainy and you cannot eat outside, you can even move your picnic inside to one of the common areas and still enjoy the event. Residential homes have common areas for their residents to join others for activities. 
Here at Heritage Hills, your experts in Alzheimer's care at Oceanside CA, you can see we include items on our menu that would work for this type of outing. 
#4) Watch old movies
You may not be able to be outside all the time during summer months, so we want to also look at some activities that can be indoors. Watching some of your favorite classic movies is a great way to bring back memories from times past and enjoy them again. You could even make a list of movies with other residents at your community and take turns watching the ones you all picked on different afternoons or evenings. Maybe have a movie club! 
You should make popcorn, have a bit of movie candy available, and be sure to include cold drinks during your movies. Then, after each movie, everyone can talk about where they first saw it, if they remembered it the same way, and anything else the memory stirred!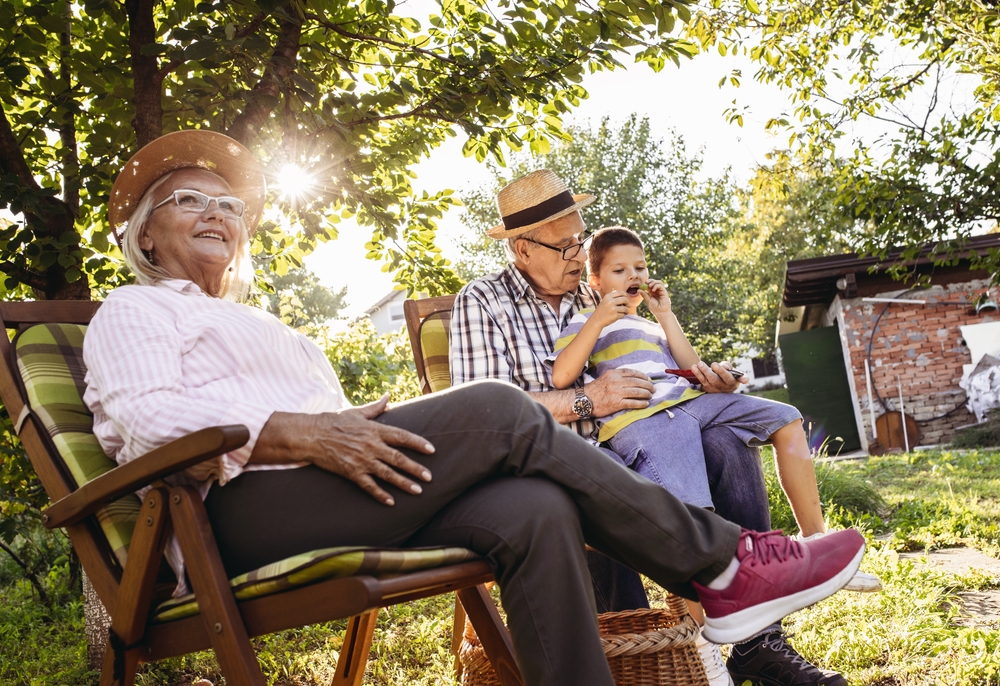 #5) Go on a storytelling trip and relive memories
You can have a storytelling trip without ever leaving home. For this you can either bring family members together, or get a group from your residential home together, and tell stories from past years. It is good to decide on a theme for the event–although you can have a variety of themes over different meeting times.
So, you could begin with School Days, for instance, and everyone can just come with their stories to tell, or they can even bring photographs of when they were in school to add to the stories they will tell. 
It's a good idea to set a timer for each person talking to give everyone a chance to speak, so you may want to use a kitchen timer or one from a board game. Five minutes for each person may be a good starting point, and then if you still have time you can go around the group a second time. It can be a very fun time reminiscing about the past. 
#6) Don't forget the spa to relax
Another wonderful indoors activity to bring enjoyment and relaxation is the spa. Spa activities are beneficial to both physical and mental well-being of residents, and that is why we at Heritage Hills offer spa options for our residents. 
To promote comfort and relaxation, Heritage Hills offers residents a relaxing spa complete with essential oils and a hydrotherapy tub. Residents can book times and enjoy the benefits offered. We also have a full beauty salon for additional pampering.
Let Heritage Hills provide Alzheimer care in Oceanside CA
If you are interested in finding out more information about Heritage Hills, we would be happy to schedule a tour and answer all the questions you may have!