Moving out of your family home and into our memory care community in Oceanside is a big step. This process is bound to come with many emotions and it's normal to feel sad about leaving your former home behind. However, just because you are moving to a senior living community doesn't mean that you have to give up some of your most treasured belongings! In fact, it is highly encouraged that you bring along items that will help your transition and allow for your new residence to feel like home.
That being said, it can be tough to downsize from a house to an apartment. You might struggle with feeling unsure about what to bring or feel concerned about bringing either too much or too little. Thankfully, our team here at Bayshire Heritage Hills has compiled a list of helpful tips that will guide you through the downsizing and decorating process!
Tip #1: Carefully consider what to bring.
The first thing you need to consider when choosing which items to take is the floorplan of your new space at the memory care community in Oceanside. All of the main furniture is typically included, which entails the bed, dresser, and nightstands. That being said, you won't need to bring along any bulky furniture items when you move. Instead, you should focus on the small things, especially those that have sentimental value or that you use on a daily basis.
The goal is to make your new space feel like home, so be sure to pack along your favorite blankets, pillows, and curtains. Use these as a way to bring pieces of your old home into your new one. Also, be sure to pack along some of your favorite clothes, including pajamas, sweaters, and dress up items you may want to wear on outings. Last but certainly not least, don't forget your family photo albums, scrapbooks, or framed pictures. These items will be there to help you feel less homesick.
Tip #2: Maximize your storage space.
It goes without saying that your new living space isn't going to have as much square footage as your family home. You will need to find new ways to make the most of your space, including maximizing storage space. The way that the floor plans are set up in senior living communities is to promote mobility and minimize clutter, which in turn helps to prevent falls and keep seniors in their top health. 
Here are a few ideas that can help you make the most of your storage space:
Invest in hooks that hang on the back of your doors. You can use these hooks to hold your bathrobe, jackets, purses, sweaters, and more. This way, these common items are easily accessible without making additional clutter.

Purchase a shoe organizer to keep at the bottom of your closet. This will allow you to see which shoes you have without digging through your closet while also making it look more put together and organized!

Utilizing the space under your bed is a great idea for storing away less commonly used items. For example, you could keep out of season clothes under there or seasonal decor you use to brighten up your living space.

Keep toiletries and other bathroom items organized by opting to use small storage containers and decorative baskets. This will help you to keep tabs on your medications and other personal items.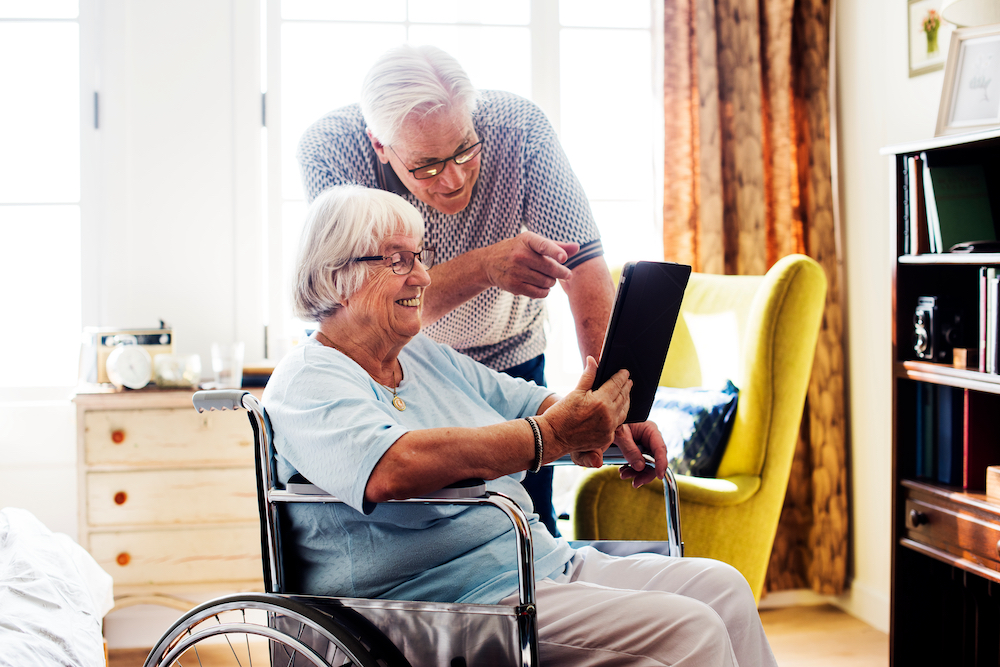 Tip #3: Fun colors and mirrors can brighten your space.
Even if the space at your new home is smaller or has an abundance of neutral colors, that doesn't mean you can't liven things up. A great way to do this is by adding pops of fun, bright colors. You can do this by opting for bright home decor, such as patterned curtains and throw blankets. Alternatively, you could hang up colorful art or paintings on the wall. The opportunities to liven up your space are endless!
Also, did you know that mirrors can help rooms feel bigger? Even if your floor plan doesn't include an abundance of square footage, you can create the illusion of more space by adding a mirror. Purchase a mirror that has an artistic border to hang above your dresser or headboard to make your space feel larger and brighter.
Tip #4: Go for cozy and comfortable.
While your new room at our memory care community in Oceanside might not be the exact same as your old home, that doesn't mean you have to forego the cozy comforts that you're accustomed to. For example, if you love taking care of plants, such as indoor succulents, feel free to bring them along. Keep them on your windowsill or in another sunny spot in your room. Do you enjoy using an essential oil diffuser for aromatherapy? There is definitely a spot to plug that in!
Transitioning to senior living can be an emotional process for many senior adults, especially those with memory care issues. The goal is to find a new home that you not only feel safe in, but comfortable as well. Talk to the staff prior to moving to see what all you can bring. This is going to be your new home away from home, and you deserve to enjoy your golden years with all of your favorite possessions. 
Memory Care Community in Oceanside
Could you or another senior loved one you know benefit from transitioning to memory care? Facing the cognitive decline brought on by Alzheimer's disease and dementia comes with many unique circumstances and challenges. You want to ensure that you are in the best care possible and that you feel safe and cared for. 
Here at Bayshire Heritage Hills, our staff specializes in memory care services. That's right – memory care is all we do. This can bring you the peace of mind you need when making such a life changing transition. Simply knowing that everyone on staff is highly trained and experienced in helping those with memory care concerns will make the world of difference. 
To learn more about our community or to schedule a time to take a tour, contact us today! We can't wait to show you what your next home away from home looks like.