If you are a senior with limited mobility, you know how frustrating it can feel trying to find engaging, fun activities and hobbies that you can participate in. For those that are a caregiver to seniors with these concerns, you are probably also very familiar with this struggle, too. However, limited mobility doesn't have to mean you have to miss out on an enriching and fulfilling experience! For those that use our Oceanside memory care services, the following list of activities and hobbies can be a perfect way to stay engaged, active, and involved. Continue reading to learn more!
#1.) Arts and Crafts
Not only is creating and doing arts and crafts fun and safe for those of all mobility ranges, but it can be an excellent way to keep your mind active. There is no right or wrong way to go about art, and with many different mediums to choose from, you're bound to find something you truly love. For example, you could give painting on canvas a try. Experiment with watercolor, acrylics, and more to help you discover your personal style. Or, you can try knitting, sewing, or crocheting. This is an excellent tactical hobby where you can create gifts for loved ones or even donations to those in need.
If those ideas seem a little too advanced to start off with, that's okay! Even doing something as simple as coloring can have a wide range of health benefits for seniors. For those who use Oceanside memory care services, coloring can actually relieve stress, soothe anxiety, and increase mental focus. Don't be afraid to try various arts and crafts as an opportunity to get creative!
#2.) Puzzles and Board Games
Did you know that puzzles and board games are among the best activities for those with dementia or Alzheimer's Disease? On top of that, they can be a great form of entertainment for seniors with limited mobility as well. Board games encourage social interaction, as they often require multiple players. Putting puzzles together with a friend, caregiver, or loved one is always more fun and you can talk and interact while putting it together. As an added bonus, if you get too tired, puzzles and board games can be easy to pause and resume later. They do not have to be completed all in one sitting.
#3.) Bake Delicious Treats
With Valentine's Day right around the corner, you probably have baking and making treats in the forefront of your mind. For those with limited mobility, don't worry, you can still participate in your favorite holiday festivities! You may need a little assistance or to make a few modifications in the physical parts of the process, such as using a standing mixer to mix the batter instead of doing it by hand. However, you can still prepare goodies to share with your friends and loved ones! From decadent brownies to frosted sugar cookies, let your inner pastry chef go wild and share the love just in time for Valentine's Day.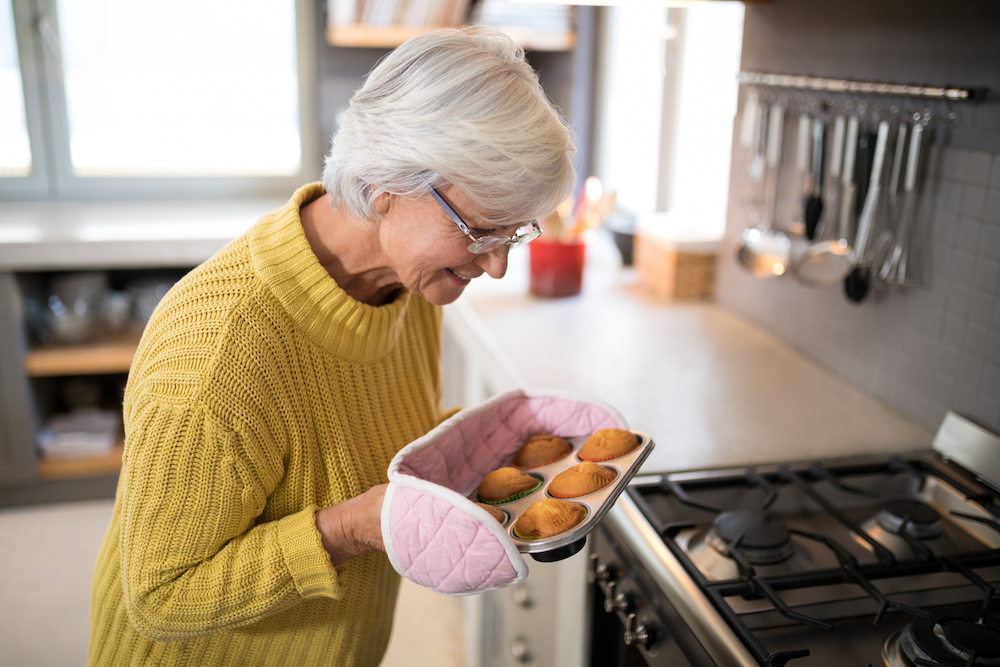 #4.) Create a Scrapbook
Residents of Heritage Hills will find a lot of value in participating in a hobby like scrapbooking. Not only is it great for building up manual dexterity as well as being a creative outlet, it can serve as an excellent opportunity to immortalize your favorite memories. It goes without saying that those who utilize Oceanside memory care services struggle with remembering people and events clearly. A scrapbook can be a beautiful and treasured way to keep your most beloved memories and photos together in one spot. 
Scrapbooking with the younger generation, such as a child or grandchild, will also allow you to share memories, stories, and details that they can pass down to future family members. You can create a physical scrapbook yourself or use an online service, such as Shutterfly.
#5.) Enjoy Time Outdoors
When you think of spending time outdoors, what is the first thing that comes to mind? Do you imagine going for a walk or hike? What about participating in a sport or other outdoor activity? If these types of activities are a little too physical for you, don't worry! You don't have to stay stuck inside. Instead, take your favorite indoor hobbies and move them outdoors. Sunshine and fresh air can do wonders for one's physical and mental wellbeing. Even reading a book, enjoying a cup of tea, or simply sitting on the veranda and talking to a friend can be very beneficial. Here at Heritage Hills, our temperate California location allows for our residents to soak up the sunshine year round, even in the middle of winter!
#6.) Chair Yoga and Chair Tai Chi
If staying physically active is important to you, even in the face of limited mobility, there are still options out there. Two very popular choices are chair yoga and chair tai chi. These allow you to take these activities and modify them to a sitting position so they are safer for people with mobility concerns. The focus is placed primarily on breathing and hand movements. A few benefits of doing chair yoga and chair tai chi include improved range of motion, daily stretching, and an overall bolstered sense of grounding and focus. This is a safer alternative for those who have trouble standing for any length of time. 
Oceanside Memory Care Services
If you are looking for a memory care community where you or your senior loved one can feel safe and included, then look no further than Heritage Hills. Our staff specializes in Oceanside memory care services and are here to help seniors specifically with memory loss, dementia, or Alzheimer's disease. We strive to create a space that is accessible for those with limited mobility while also being fun and stimulating. 
To find out more about our memory care community and the amenities that we offer, please contact us today! From there, we can answer any questions you may have or even set up a time for you to take a tour of our facility. We look forward to hearing from you and can't wait to show you why Heritage Hills would be a great home away from home!