If you have a senior loved one who has recently been diagnosed with Alzheimer's disease or dementia, be prepared to face some obstacles. Unfortunately, one of the first areas impacted is typically communication. Gaps in communication can lead to frustration and misunderstandings, which is hard for both the senior and caregiver alike. Being able to bridge these gaps and connect will make all the difference. But how can that be done? Today, our affordable memory care in Oceanside is here to offer some advice about how to better communicate with your senior loved one.
Tip #1: Research the various stages of dementia.
The first thing that you should know about dementia is that it is not one size fits all. The nature of the disease is progressive, meaning that it changes and takes shape over time. There are three main stages of dementia, each one with different symptoms and behaviors. Knowing the stages will help you better understand where your loved one is and how you can best help them.
Early Stage:
In the initial stage, you will find that the dementia behaviors are often subtle. Sometimes, they can even be mistaken as forgetfulness or chalked up to 'old age'. There might be times your loved one forgets a word or a name, struggles to keep track of appointments, or often misplaces household items, such as car keys.
Middle Stage:
When dementia reaches this stage, the signs and behaviors tend to become more frequent and noticeable. Your senior might routinely forget names, places, and commonly used words. There is a significant lag in their ability to comprehend changes or newly presented information. They might also repeat questions over and over again, such as 'how was the event the other night?' even though that was something you talked about previously. 
Late Stage:
During this later stage of dementia, communication can be extremely difficult. Your senior loved one might not remember where they are or what year it is. They may forget large chunks of time and be confused about how they got somewhere, even in a familiar space like their own home. Short term memory will be a challenge, as they typically struggle to remember any newly presented information.
Tip #2: Keep communication simple.
After a dementia diagnosis, it is vital to work on keeping communication straightforward and to the point. Try not to get caught up in slang or idioms that might be confusing. Make sure your senior understands the initial information before adding on extra details. Remember that it might take longer to get your message across, and that's okay! Give them the opportunity to ask questions. If you can, write things down for them or help them set reminders, such as for doctor's appointments or personal events.
Tip #3: Be mindful of your body language.
When it comes to having a conversation, nonverbal communication is just as important as verbal communication. Being mindful of your body language can go a long way in helping you to get your point across. Try to avoid crossing your arms, making dismissive facial expressions, sighing, or otherwise outwardly showing your frustration. This can escalate and make things even worse.
Instead, try to keep your body language open and welcoming. Smile, make eye contact, and even hold your senior's hand to gently redirect them. These kinds of gestures can be viewed as grounding and warm. There is an old adage that goes, 'you'll catch more flies with honey than vinegar'. Being sweet and patient with your senior will serve you better in the grand scheme of things.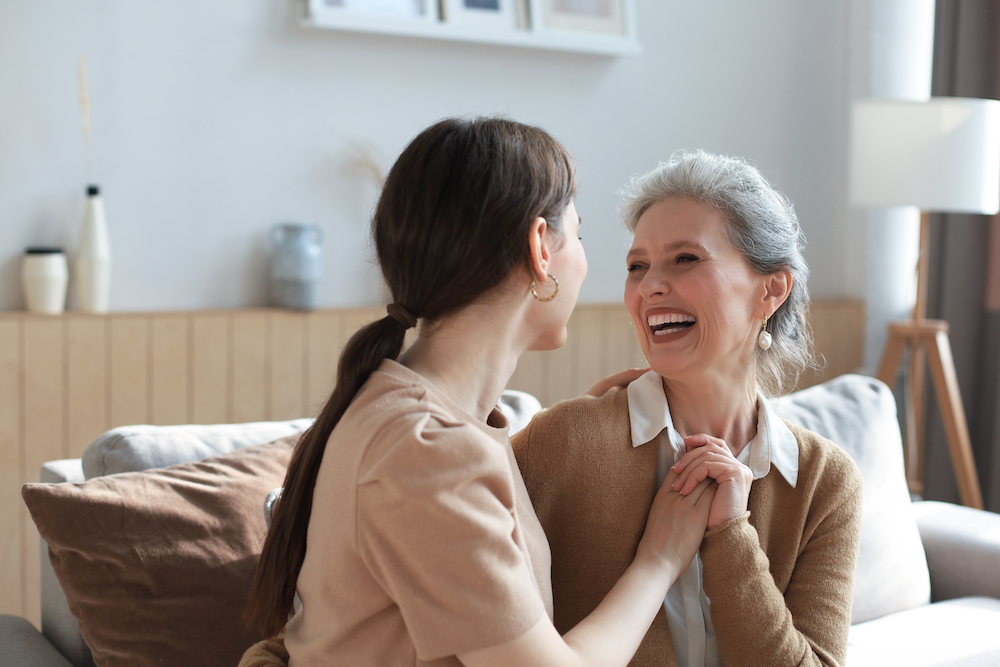 Tip #4: Minimize outside distractions.
If you have something important to communicate with your senior, it can be tough to do so if there are a lot of distractions. For example, if the radio or TV is on, this could easily draw their attention away from you and what you need to say. Sit down and have a one-on-one free of background noise. Maintain eye contact as well. Having these conversations in a familiar setting, such as at the affordable memory care in Oceanside, can be super helpful in eliminating unexpected variables, too.
Tip #5: Practice patience and have empathy.
For seniors facing dementia or Alzheimer's disease, they are up against a debilitating disease. They are just as frustrated about their forgetfulness or the lapses in their communication skills. There is nothing they want more than to be able to talk and carry on like they once did. That is why it is essential to make sure that you practice patience and have empathy. Taking a deep breath when you feel frustrated and waiting a moment to talk things out can really make a huge difference.
On the other hand, make sure to avoid using any language that might be viewed as demeaning or infantilizing. Resorting to 'baby talk' or comments like 'good job' might feel off putting or patronizing. Continue to talk to them like you always have and treat them with respect, kindness, and empath. 
Tip #6: Give yourself a break.
As a caregiver, you know better than anyone else how difficult and frustrating communication can be. Your job is extremely tough and comes with so many tightropes and obstacles. That being said, this is your reminder that you need a break too! Here at our affordable memory care in Oceanside, we also offer short term respite care. These services can be used for a few hours or even a few weeks! Allow our caring staff to assist your loved one while you get some well deserved rest and relaxation. 
Affordable Memory Care Oceanside
If you ever need help or feel as though your senior loved one would benefit from moving to a senior community full time, don't hesitate to reach out to our staff here at Heritage Hills. Our affordable memory care in Oceanside specializes in helping seniors with dementia or Alzheimer's disease. Our highly trained staff know and understand the various stages of the disease and have all the tools to help your senior's golden years be safe and enjoyable. 
For more information, contact us today or schedule a tour of our community! We can't wait to show you just what all affordable memory care in Oceanside has to offer.