Many people highly anticipate the change of seasons each year and welcome fall with open arms. While there is much to look forward to, including cooler temperatures and upcoming family holidays, some folks actually dread this time of year. If you are someone who finds yourself getting sad or suffering from depression-like symptoms once the weather gets colder and the days get shorter, know you're not alone. In fact, you may actually suffer from something called Seasonal Affective Disorder, or SAD for short.
People of all ages can be impacted by SAD and seniors are no exception. If you or a senior loved one resides at Oceanside senior living, it's important to double check the condition of your mental health and be on the lookout for the signs and symptoms of SAD. To learn more about SAD and how you can help yourself or your senior family member, continue reading!
What is SAD?
As mentioned above, Seasonal Affective Disorder is a mental health condition that comes around the change of seasons. Most people experience SAD during the fall and winter months. This is because the days are shorter, meaning there is less sunlight. Also, the cold weather can be especially depressing as well as this means less time outdoors. For some seniors, the holidays can be a difficult time of year as well if they have recently lost a spouse or life partner. 
SAD Signs and Symptoms
If you think you or your senior loved one might have SAD, there are some signs and symptoms you should be vigilant of. Identifying SAD early can make it easier to intervene before the depression gets worse. Bolstering the safety and overall quality of life for the residents of Oceanside senior living is always our number one priority here at Heritage Hills!
Warning Signs
Feeling sluggish or having an overall diminished amount of energy

No longer interested in hobbies or social activities

Irritability and agitation 

Sleeping an excessive amount or struggling to sleep

Difficulty concentrating or paying attention

Sudden and significant increase or decrease in weight

Lack of appetite

Thoughts or feelings of worthlessness, hopelessness, and sadness

Increased isolation or antisocial behavior

Suicidal thoughts or ideation 
While this is not a comprehensive list, it does provide some of the most commonly seen signs and symptoms of SAD. If you or your senior loved one fit this bill, be sure to talk to a doctor right away. If your senior lives at Oceanside senior living, make time to talk to staff members about what you've noticed. 
How You Can Help
If there is one thing that you should note, it's that treatment for SAD isn't one size fits all. In fact, you might not be able to fully make SAD go away, but you can help bring some warmth and sunshine back into your senior's life. Below, we have a few suggestions on how you can help your senior stay positive and feel loved, even through the colder months.
1.) Frequent Visits
There your senior loved one is a resident of senior living in Oceanside or if they live at their own home, make sure that you visit often. Sometimes, all people really want to know is that someone cares for them and is there to support them. If you live far away, schedule phone calls or video chats. Be sure to also send cards or letters to help cheer them up. This small gesture can go a long way.
2.) Encourage Exercise
Getting up and moving can be an excellent way to combat SAD! Encourage your loved one to exercise every day. They can take a walk around the park or even exercise at a fitness center. If they live in a senior living community, remind them to check out the Heritage Hills resident activity calendar for fun activities that they can do with other residents. This could include chair yoga, dance class, bingo night, and so much more! Staying socially connected and staying active are great tools for fighting the symptoms of SAD.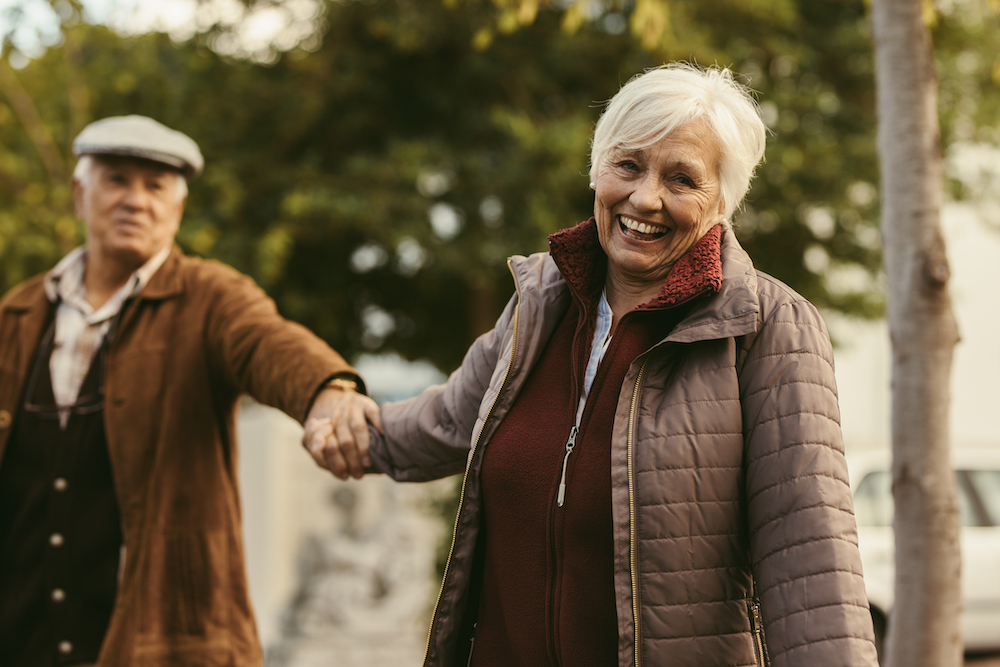 3.) Spend Time in the Sunshine
Sometimes, the culprit behind SAD could be a significant lack of Vitamin D. Starting a Vitamin D supplement during the winter could be a great idea, but don't forget to spend time outdoors and in the sunshine when you can. On more mild days, try to schedule a time to go for a walk or even sit on the patio and enjoy a cup of tea. On more blustery days, see if you can sit by the window to read a book or play a board game with a friend. Sunshine is sometimes the best cure for the 'winter blues'.
4.) Talk About It
Unfortunately, many older adults feel stigma around talking about negative feelings or admitting that they are depressed. When it comes to seasonal depression, it's important to know you are not alone. Many people are going through the same thing as you, maybe even other residents of the Oceanside senior living community. Talk to someone you can trust, such as a friend, family member, or even a staff member. Open up about these concerns and allow them to provide you with encouragement and support.
5.) Practice Self Care
When facing a mental health concern such as SAD, it helps to find joy in the small things and put yourself first. Take the time to practice self care during these colder months. Cook up your favorite foods or desserts, practice yoga and meditation, or even keep a journal of your thoughts and feelings. Even when you don't feel motivated to do so, make sure that you find time for your hobbies and activities. Before you know it, spring will be in the air once again!
Check Out Heritage Hills
If you are on the hunt for an Oceanside senior living community, then be sure to check out Heritage Hills! Our community is a great place to spend the winter, especially for those with memory care needs. Allow our helpful staff to care for you or your senior loved one this winter season. Contact us today to schedule a tour or find out more information!