No matter what age you are, exercise can do wonders for your mental health. However, for seniors, including those with Alzheimer's disease or dementia, regularly exercising can prove to be especially beneficial. There are many ways that staying active can help bolster your mental health, such as improving your mood, combating feelings of depression and anxiety, and even helping you to get better rest at night. 
Continue reading below to learn more about how exercise can help as well as get more information on our Oceanside memory care services.
Safe Exercises for Seniors
Prior to diving into the mental health benefits of exercise, it's important to know which exercises are safe for seniors. Those who use Oceanside memory care services may have limited mobility or need to use modified activities to accommodate their needs. Here are a few of the best ways you can safely stay active as a senior:
Walking
While it may seem like the obvious choice, simply walking for 10-15 minutes a day can improve both your physical and mental health. If you are a Heritage Hills resident, you can go for a walk around our beautiful community. The California weather makes it easy to enjoy being outdoors year round.
Swimming
Swimming is an excellent, low impact activity that is safe for many seniors to enjoy. Though, don't worry, no one is expecting you to jump in the pool like Michael Phelps. Whether you are doing a few laps around the pool or are participating in group water aerobics, be sure to give swimming a try.
Yoga or Tai Chi
Another low impact exercise that can easily be modified according to your mobility needs is yoga. Tai chi is also an alternative that you can try. These two practices focus on breathing, slow movements, and improving one's mobility. For these reasons, it is very popular among older adults.
5 Mental Health Benefits
Now that you have a few exercises that you can try, it's time to learn more about the mental health benefits. If you are a senior with Alzheimer's or dementia, or have a loved one with these cognitive issues, here's how exercise can help. 
#1.) Improved Mood
One of the most common symptoms of dementia is irritability or short-temperedness. For those affected by the disease, it is important to find ways to naturally bolster your mental health and improve your mood. Exercising is a great option because when you're active, your brain produces two important feel-good chemicals called endorphins and serotonin. Both of these help you to feel better and keep your mental health balanced. 
As an added bonus, spending time in nature is especially beneficial. There is nothing quite like a breath of fresh air and a daily dose of sunshine to improve your mental well being. Simply walking outdoors can be a great way to clear your mind and refocus.
#2.) Reduced Stress and Anxiety
For those who have been diagnosed with Alzheimer's disease or dementia, anxiety and stress can happen often. These two feelings are known to make dementia symptoms worse, and can lead to outbursts or incidents of irritability and anger. That is why it is necessary to find ways to reduce stress and anxiety whenever possible. There are many great outlets for doing so, including exercising. Research has shown that even light to moderate exercise a few times a week can greatly improve one's mental health by reducing feelings of stress, anxiety, and depression.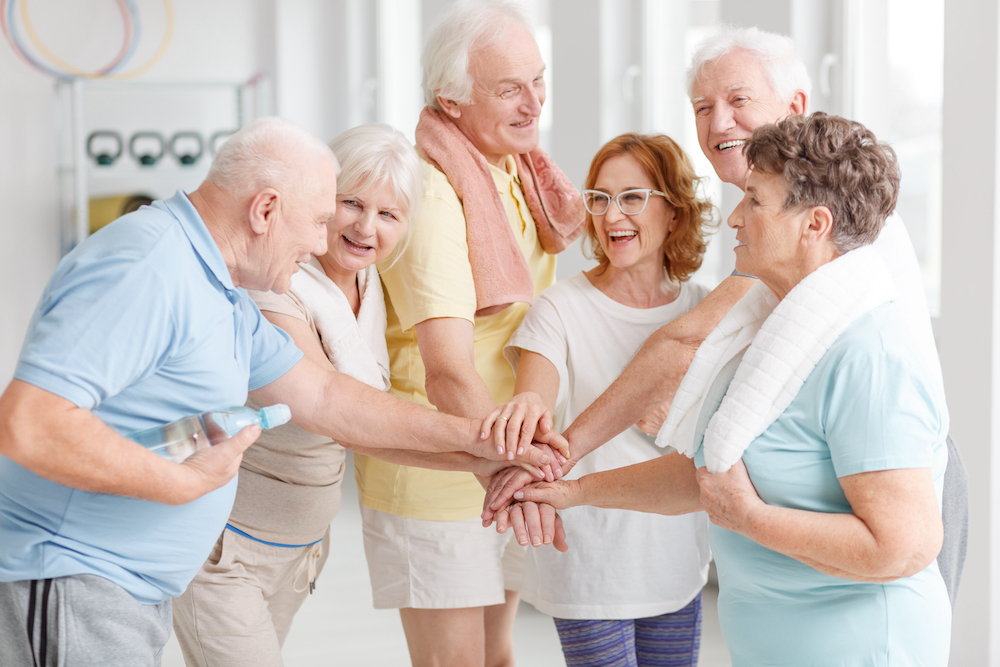 #3.) A Great Social Outlet
All too often, seniors resort to isolation or distance themselves from their loved ones. This is especially common for those who have some kind of cognitive impairment. Joining a senior living community, such as Heritage Hills, and staying active can be a great way to stay social and connected to the world around you. Each month, our staff creates a social activity calendar with a wide range of activities that residents can participate in. This often includes opportunities to exercise, such as table bowling, basketball, group stretching and movement, as well as group walks. It is just one of the many amazing amenities we offer as a part of our Oceanside memory care services. 
#4.) Naturally Increase Your Energy
When you feel sluggish and slow, you don't feel like your best self. Over time, this can take a toll on your mental health and well being. Thankfully, staying active is an excellent, all natural way to increase your energy. On days you are feeling worn out and down, try simply taking a quick, ten minute walk. This will do wonders to renew your energy and refresh your spirit.
#5.) Better Sleep Quality
It is no secret that when you don't sleep well, your mood isn't great, either. Getting adequate sleep is an important part of maintaining your overall health and wellness, especially as an older adult. If you struggle with getting quality rest at night, try incorporating light exercise into your daily routine. Go for a brisk walk in the mornings, swim a few laps in the pool in the afternoon, or participate in one of the many fun group fitness activities that are offered. Doing so should help you feel more worn out (in a good way!) at the end of the day and ready to drift off to sleep when your head hits the pillow. 
Contact Our Oceanside Memory Care Services Today!
If you or a senior loved one has been diagnosed with dementia or Alzheimer's disease, it's important that you take the measures necessary to see that you are leading the highest quality of life. Moving to a memory care community, such as Heritage Hills, can help you to do exactly that. Here at our community, we put the health and well being of our residents above everything else, both physically and mentally. We want every senior to feel right at home in our community and to foster an environment where they can thrive. 
To become a resident of Heritage Hills or to take a tour, contact us today! Memory care is all we do, meaning that we specialize in assisting those with dementia and Alzheimer's disease. Come and see for yourself what makes our community so special.