If there is one time of year that many people look forward to, it's the holiday season. This is a special time dedicated to making memories with family and friends, exchanging gifts, sharing a meal, and participating in other treasured traditions. If your senior loved one is a resident at the dementia memory care in Oceanside, it is all the more important that you celebrate the holiday together. 
However, because of the nature of Alzheimer's disease and dementia, you may need to prepare to make some changes to your standard activities and traditions. Celebrating safely with your senior loved one should be at the top of your priority list. Today, our team here at Heritage Hills has compiled a list of the best tips you can implement when hosting your loved one who has dementia. Keep reading to learn more!
1.) Keep the gathering small with a limited guest list.
While it is perfectly understandable that your extended family will want to flock to the family home to greet their beloved matriarch or patriarch for the holidays, it is best to keep your guest list small. Too many people and too much noise can cause overstimulation and may prompt your senior to have an anxiety attack or exhibit other dementia related behaviors. Try to keep the guest list small. If you are hosting your senior loved one for several days, you can stagger visits across multiple days. This will help your senior from getting too overwhelmed by multiple people at once. 
2.) Have an honest conversation with your family.
If your extended family hasn't spent much time with your loved one since they have become resident at the dementia memory care in Oceanside, it is important to remember your family might not be aware of the different dementia behaviors. Take the time to privately have an honest conversation about the nature of the disease. This includes reminding them that your senior might not remember their names or their ages. Or, they might think that they are still children despite now being adults. Remind them not to correct these comments and to simply go with the flow. If the senior repeats themselves or asks the same question multiple times over, ask your family to be patient and kind. 
Note that it is especially important to have this conversation with young children. They are probably very much looking forward to seeing their grandma or grandpa for the holiday. However, they are also the least likely to fully understand the nature of the disease. Have an age appropriate conversation with them and remind them that should their senior loved one have an outburst or say something inappropriate, the child did nothing wrong. 
3.) Dedicate a quiet space or separate room for receiving guests.
Once again, noise and overstimulation can be a huge anxiety trigger for many dementia care residents. In an effort to combat this, try dedicating a special area or room of your home where family members can talk one on one with your senior. This could be a quiet sitting room or simply an area away from all of the hustle and bustle. Young children and pets can add to the overstimulation, so make sure to supervise interactions. Depending on the severity of your loved one's disease, this may need to be something you do only for a few hours, or it could be during the whole duration of the festivities. Use your best judgment when it comes to how long your senior should receive and interact with guests. 
4.) Plan fun and safe activities.
Just because your senior has dementia doesn't mean that they want to skip out on the fun! They can still very much be involved in many different aspects, including decorating the tree or baking up gingerbread cookies. Once more, it is best to use your discretion when planning these activities and taking your loved one's particular skills, interests, and abilities into consideration. Talk to them and get their insight, too. Is there a tradition that they normally take part in, such as wrapping gifts or watching the annual football game? Doing the things they have always loved will bring a resurgence of positive, fond memories all while creating new ones.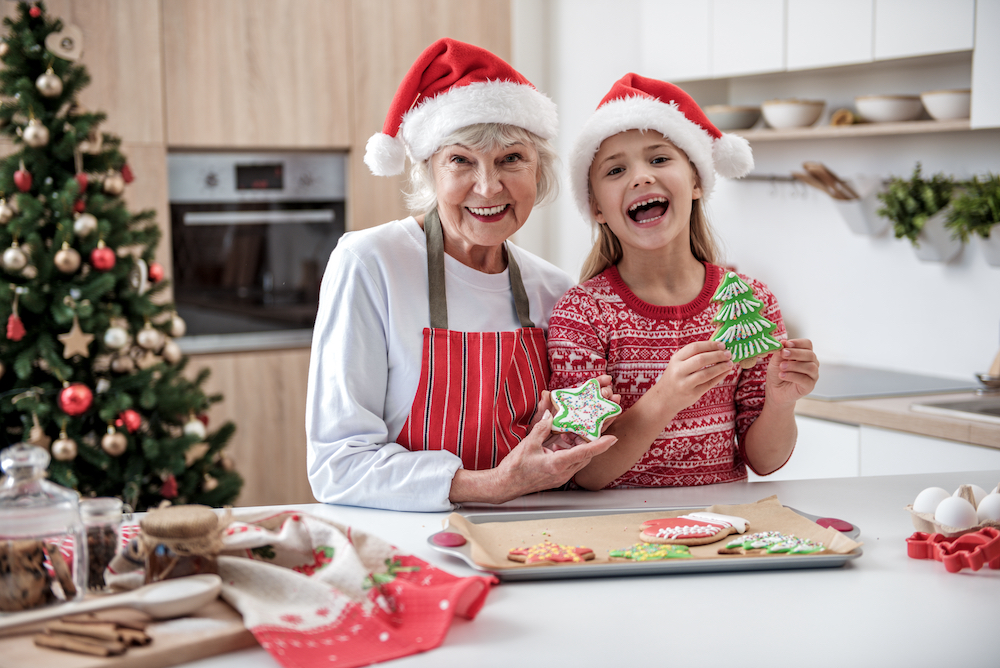 5.) Remember to monitor their diet.
It is no secret that older adults have sensitive digestive systems. This is especially true if they take any particular medications that may impact how they process food. As much as they might look forward to eating the various, rich holiday foods offered at dinner, it is best to be mindful of any dietary restrictions. In fact, foods rich in sugar or anything with an alcohol content can cause added stress on the body and may even trigger negative dementia behaviors. If you have any concerns, be sure to have a talk with their doctor or nurse in advance of the holiday party.
6.) Be mindful of when you plan activities.
For many residents of dementia memory care in Oceanside, one common dementia symptom they experience is something called 'sundowning'. This is a series of behaviors that occur during the later part of the afternoon or early evening, around the time when the sun goes down. Around this time of day, seniors with dementia might become especially agitated or forgetful. If sundowning is something that commonly happens with your loved one, it is best to schedule your activities early in the day. For example, instead of a holiday dinner, opt for a holiday lunch. Making this small adjustment in the time will go a long way in making sure that everyone in attendance, your senior included, has the best time possible. 
Dementia Memory Care Oceanside
If you are looking for a quality memory community, then look no further than Heritage Hills. Here, memory care is all that we do. Our staff is highly trained in helping those specifically with dementia, Alzheimer's disease, and other memory care concerns. Contact us today for more information or to schedule a time to take a tour of our beautiful facility.