Watching a senior loved one struggle with anxiety can be very tough. Whether they are a parent, grandparent, or a beloved aunt or uncle, you want them to live their happiest, healthiest lives. In recent years, mental health concerns such as anxiety have been getting more attention, shedding light on issues that have spent far too long being swept under the rug. Despite that, knowing how exactly you can help your senior loved one might feel like a challenge. That is why today, our memory care community in Oceanside has compiled a few tips that might be helpful! Continue reading to learn more about it.
1.) Find a Relaxing Hobby
When anxiety strikes, one of the best things you can do is occupy your mind with something else. Staying busy with a task or hobby you enjoy can go a long way in curbing these anxious feelings and getting your brain back on track. Plus, when you are doing something fun with another person it's sure to put a smile on your face. 
That being said, here are some great suggestions for activities you can do with your senior loved one who resides in our memory care community in Oceanside:
Puzzles or Board Games: 
Looking for something fun that will also help bolster brain health and help combat anxiety? Puzzles and board games can be the perfect solution! Sit down with your senior and enjoy one on one time doing this activity together this winter.
Holiday Baking:
The holidays are right around the corner which means it's the perfect time to bust out the cookie sheets and muffin tins. Baking can be relaxing for many people, including for seniors. Whip up a family cake recipe or bake some holiday cookies for the neighbors. Either way, we know you will cherish this time together.
Scrapbooking:
For seniors who are diagnosed with Alzheimer's disease or dementia, being able to look back at memories is truly something precious. That is why scrapbooking can be an excellent activity. Not only is it great for anxiety and an amazing creative outlet, but it can serve as a fun way to reminisce on family photos and treasures. 
2.) Spend Quality Time Together
According to the Centers for Disease Control, one of the primary causes behind senior mental health concerns is actually isolation. Sometimes, with age, seniors might isolate themselves from family and friends. This is especially true for someone with dementia issues. That is why it is vital to make sure that your senior loved one stays happy, healthy, and connected to the world around them.
In order to do this, find ways to keep your senior in touch with family and friends. Even if you live far away and are unable to visit often, technology can be very helpful. Getting them set up with a simple tablet will allow them to video chat with their loved ones or use social media. For a more old school approach, make sure to mail cards and letters as well as call and check in often. 
3.) Encourage Regular Exercise
Exercise is a sure fire way to combat anxiety and depression. When you exercise, it releases chemicals in your brain, including endorphins and dopamine. These are two of the primary pleasure chemicals and will help you to remain positive and healthy. Don't worry, no one is expecting a senior to lace up their sneakers and train for a marathon! But even doing things like walking, stretching, or chair yoga will help.
Here at Heritage Hills, our memory care community in Oceanside features a robust activity calendar. This means that our residents have a wealth of activities to choose from, including different forms of physical exercise. 'Sit and Fit', afternoon walks, and morning stretches are just a few. We want our residents to stay active and provide options for all different ranges of mobility as well.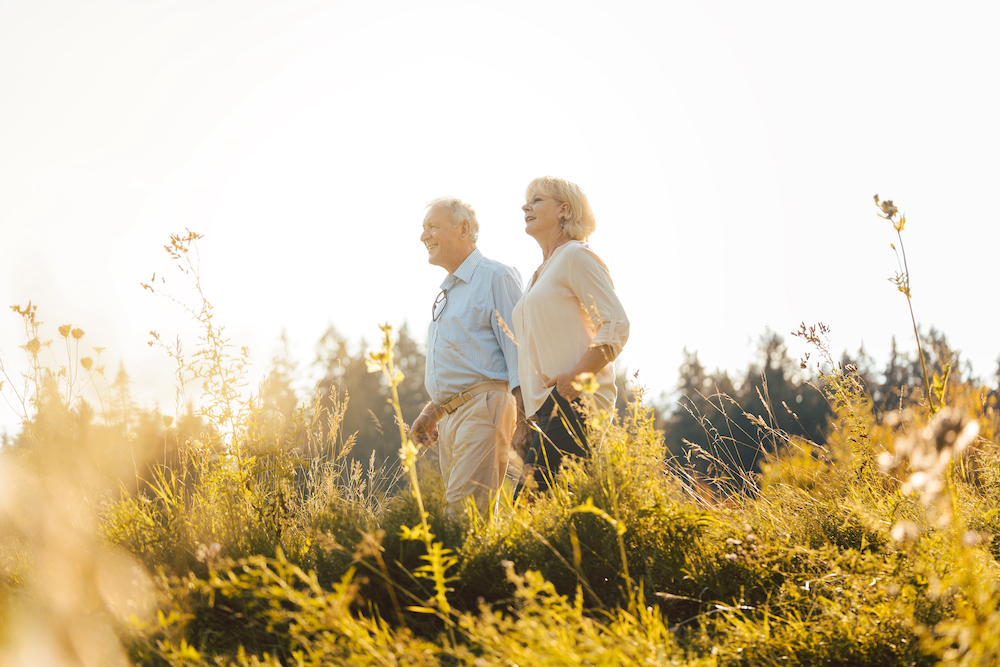 4.) Keep a Consistent Routine
For someone with anxiety, one of the worst triggers can be mixing up a routine. If your loved one has dementia or Alzhemier's disease, this is especially something that you should be mindful of. If your loved one lives at home, do your best to see that their routine stays relatively consistent, including when they wake up, what times they take their medication and meals, as well as what time they go to bed.
If there is a major change that has to be made, such as if you are going on vacation or have an appointment, make sure to communicate that with your senior in advance. Of course, there will be times when this might not be possible, but planning ahead can be very helpful. 
5.) Provide a Listening Ear
Sometimes, all a person with anxiety wants to know is that you care. Simply sitting down and listening to a senior loved one's thoughts and concerns can make a huge difference. Voicing what they are anxious about takes a lot of courage, so really take the time to listen and hear what they have to say. Even if something might seem small to you, it is a big deal to them. Having that open line of communication is vital for those who reside at the memory care community in Oceanside. 
Heritage Hills Memory Care
If you are looking for a place for your senior loved one to call home, then be sure to check out our memory care community here at Heritage Hills. We specialize in memory care and helping older adults who struggle with dementia. By providing a safe, secure community, you can rest assured that your loved one is in good hands. This will bring about peace of mind and ease anxiety for both seniors and their loved ones alike!
To get started or find out more information about our great memory care community in Oceanside, contact us today! We would be happy to set up an appointment time for you to take a tour or answer any questions you may have concerning pricing, amenities, and more. We are confident that your senior loved one will thrive here at Heritage Hills.