One of the best things about moving to a senior living community that specializes in providing Oceanside memory care services is that there is always something fun for residents to do! This could entail a wide variety of activities, such as physical fitness, movie nights, or socialization hours. However, among these activities is one that stands out, especially for those who struggle with dementia or Alzheimer's disease, and that's art therapy. 
From a very young age, we are taught the benefits of art and having creative expression. Throughout adulthood, even if you aren't particularly talented in the realm of painting or drawing, there are a multitude of benefits in creating art and having that kind of outlet. For seniors with dementia, art can be extremely beneficial while providing a safe, therapeutic way to express oneself. Continue learning more about art therapy for memory care residents below:
What is Art Therapy?
By definition, art therapy is a form of expressive therapy that uses the creative process of making art to improve a person's physical, mental, and emotional well-being. No matter what your age or background is, anyone can benefit from participating in art therapy. Memory care residents can find it especially helpful as they face difficulties communicating through traditional means. Licensed art therapists as well as other trained professionals can facilitate art therapy for residents.
The Many Benefits of Art Therapy
Now that you have a little bit of background information about art therapy, let's begin a deep dive into just how it helps seniors who are using Oceanside memory care services.
#1.) Great for Brain Stimulation
It is common knowledge that dementia and Alzheimer's disease impact the brain and impair various mental faculties. Cognitive decline is the primary symptom of these diseases, which leads to issues with communicating and impairing memory. However, art therapy has been proven to boost cognitive function. This includes a wide range of art related activities, spanning from sculpting to painting and more!
At this time, there is unfortunately no cure for Alzheimer's disease or dementia. Thankfully, though, there are ways such as art therapy that allows those afflicted to access past memories and find joy and fulfillment. 
#2.) Serves as a Great Stress Reliever
If you have a senior loved one who currently uses Oceanside memory care services, then you have likely seen first hand some of the symptoms of dementia. Stress, anxiety, and depression are all common experiences for those who are in need of memory care. Couple these negative emotions with difficulties communicating both verbally and physically, and it is no wonder that your senior loved one feels frustrated or stressed
Another major advantage of art therapy is that seniors can express themselves without ever having to say a word. They can let their thoughts, feelings, and emotions come out in the form of a painted canvas or a sculpted figure. This helps them to feel seen and understood, which in turn, allows them to destress and relieve anxiety.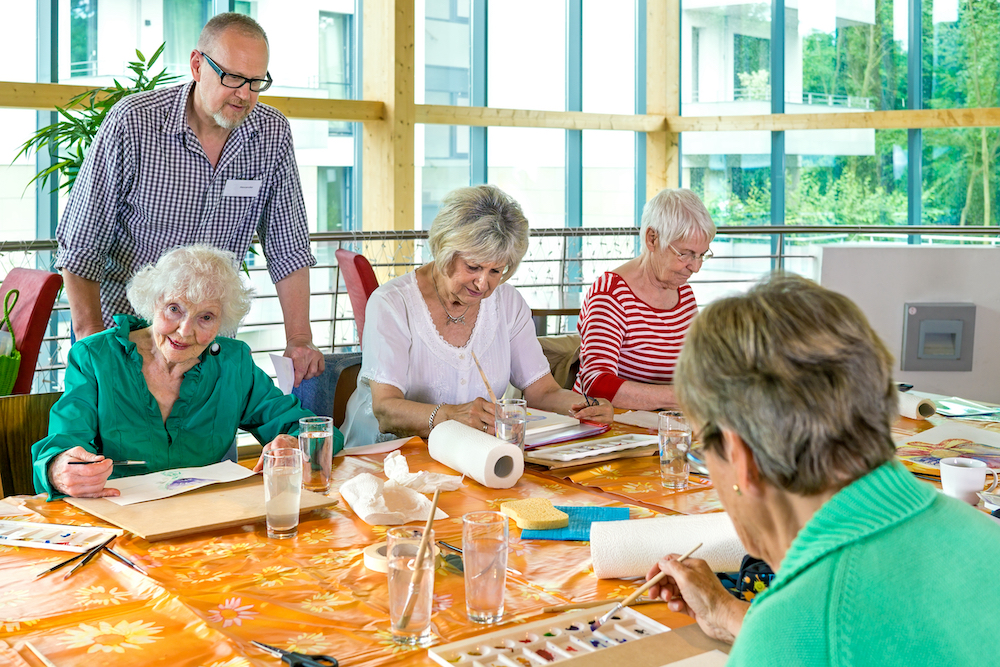 #3.) Improves Mobility and Manual Dexterity
As you age, you might find that some mobility and fine motor skills naturally decline. Those with dementia or Alzheimer's disease can be especially susceptible to this due to the nature of their condition. Art therapy provides a fun, creative way that seniors can improve their manual dexterity. For example, holding a paintbrush or using sculpting clay requires intricate use of the hands. By practicing art therapy, seniors are sure to see an improvement in their coordination and ability to retain muscle function. 
#4.) Great Socialization Activity
Last but certainly not least on this list, art therapy is a wonderful socialization activity. All too often, seniors will isolate themselves from friends and family. This can happen for any number of reasons, including fear of ridicule, embarrassment over forgetting things frequently, difficulties communicating, as well as depression and anxiety. However, spending time with individuals who are experiencing similar issues and circumstances can help seniors feel less alone. 
Art therapy provides an excellent opportunity to socialize with others. When taking an art therapy class or participating in a group craft project, you don't have to worry about keeping up with the person next to you. There is no right or wrong answer to art – whatever you create is an expression of yourself and your emotions. Art is open to interpretation and you are encouraged to color outside of the lines! Simply sit back, enjoy the activity, and strike up a conversation with your neighbor. 
Resident Activity Calendar at Heritage Hills
Here at Heritage Hills, we understand the importance of incorporating art related activities into our residential monthly activity calendar. Each and every week, we are sure to offer different opportunities for our residents to enjoy the chance to be creative and express themselves through art. 'Social Art to Be Creative' and 'Art, Drawing, and Design' are just a few of the activities that our residents can participate in. We strive to foster an environment where our senior residents feel safe and can thrive, regardless of their artistic abilities or past experiences with art. 
Contact Oceanside Memory Care Services Today!
When looking for a quality senior living community for yourself or a loved one, it is vital that you take several factors into consideration. First and foremost, if you or a loved one has been diagnosed with dementia or Alzheimer's disease, you want to find a community that specializes in memory care. 
Here at Heritage Hills, memory care is all that we do, meaning that our staff is highly trained and qualified to assist those with dementia or Alzheimer's, regardless of what stage they are in. Everything about our community, from the meals we serve to the activities we offer, is specifically catered to help those with dementia. This level of specialized care and attention to detail is an absolute must when assuring that all of your loved one's needs are being met.
To learn more about our Oceanside memory care services or to schedule a tour of our beautiful community, contact us today! We are confident that we will be your next home away from home.